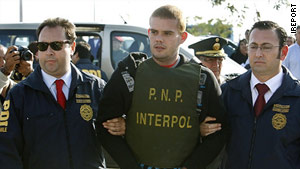 Investigators from Aruba will not be able to question van der Sloot until Peruvian authorities finish their investigation.
STORY HIGHLIGHTS
NEW: Hearing for Joran van der Sloot set for next Monday
Aruban AG: Van der Sloot told Peruvian police he wants to discuss 2005 case
Dutch citizen, 22, is the lead suspect in Natalee Holloway's disappearance
Van der Sloot is in jail awaiting trial for a Peruvian teen's slaying on May 30
Oranjestad, Aruba (CNN) -- Aruban investigators will likely not travel to Peru to question murder suspect Joran van der Sloot until at least the end of August, prosecutor Peter Blanken said Wednesday.
Van der Sloot, who is being held in Peru in connection with the slaying of a 21-year-old student last month, is the lead suspect in the 2005 disappearance in Aruba of Alabama teen Natalee Holloway.
Investigators from Aruba will not be able to question van der Sloot until Peruvian authorities finish their probe of the May 30 slaying of Stephany Flores, Blanken said. The formalities of Peruvian law also will determine the time frame, the prosecutor said.
Peruvian authorities said Wednesday that van der Sloot will give his first statements before a judge during a hearing Monday at the Miguel Castro Castro prison where he is being held.
Also appearing before a judge next week are three men -- brothers John Oswaldo and John Williams Aparcana and Carlos Alberto Uribe -- who are accused of helping transport van der Sloot south toward Chile even though they knew of the crime he allegedly committed.
Judge Carlos Morales Cordova said that if any information relating to the Holloway case surfaces during the proceedings, the proper authorities will be informed. He also said a reconstruction of the crime scene could be scheduled in the future.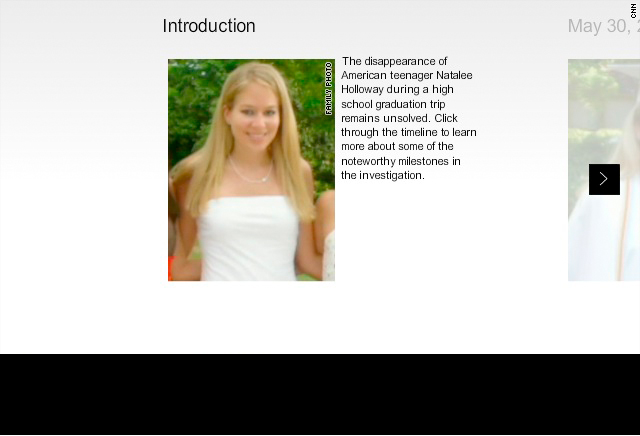 Timeline: Natalee Holloway case

Video: Aruba, Peru swap notes
And van der Sloot has stated to Peruvian police that he wants to talk to Aruban officials about the Holloway case, Aruban Attorney General Robert F. Pietersz said.
"Although the Peruvian authorities have the prerogative in their criminal case against Joran van der Sloot, the Public Prosecutor's Office of Aruba has the explicit intention to discover the truth in the Holloway case," Pietersz said in a statement Wednesday.
Aruba also will have to wait to see what information may be contained in a laptop computer Peruvian authorities confiscated when they arrested van der Sloot, Blanken said. The FBI will obtain that information from Peru and then share it with Aruban investigators, Blanken said.
Authorities in Aruba say they do not know whether the computer contains any information that may help in the Holloway case.
Aruban and Peruvian authorities have agreed to "help each other" in the investigations, Aruba government spokesman Taco Stein said Tuesday.
Stein said after a phone conversation with Peruvian Judge Carlos Morales on Tuesday morning that Peruvian authorities have agreed to allow Aruban investigators into Peru to interview van der Sloot once a formal request has been made.
Stein did not indicate when the request would occur but described the conversation as a "positive start."
Holloway's father, Dave Holloway, met with Aruban authorities on the Caribbean island Tuesday and told CNN he believes progress is being made in the investigation. He declined to elaborate further.
Van der Sloot, a 22-year-old Dutch citizen, was arrested twice in Aruba in connection with Holloway's disappearance but released for lack of evidence. Aruba is part of the Netherlands.
He said he was in Peru for a poker tournament and met Flores while gambling. Police have said they think van der Sloot killed Flores to steal money she won.
Van der Sloot told authorities he attacked Flores on May 30 after she read an e-mail on his computer connected with the Holloway case.
FOLLOW THIS TOPIC