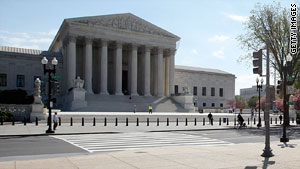 The Supreme Court rejected the case of a Canadian arrested in the U.S. and sent to Syria, where he says he was tortured.
STORY HIGHLIGHTS
Maher Arar says he was sent to Syria and tortured
Supreme Court did not explain why it rejected the case
Lower court had ruled against the Canadian citizen on procedural grounds
Canadian government has apologized to Arar
Washington -- The Supreme Court has turned away a lawsuit filed against U.S. officials by a Canadian man who was seized in New York, accused of having terrorism connections and sent to Syria, where he claims he was tortured.
At issue was whether Maher Arar could continue to press his claim for damages in federal court, and whether top U.S. law enforcement officials had immunity. Despite being a foreign national, he said he had a constitutional "due process" right to press his claims in federal court.
The justices Monday did not explain whey they rejected the case.
The Obama administration had urged the high court not to intervene in the case over the once-secret CIA program of "extraordinary rendition," in which captured suspected terrorists and were secretly sent overseas for aggressive questioning that may have crossed into physical torture.
A federal appeals court in New York had ruled twice against Arar, on procedural grounds, in his lawsuit seeking damages from top U.S. law enforcement officials. The claim was dismissed without the court reaching any conclusion on the merits of extraordinary rendition or the torture allegations.
Justice Sonia Sotomayor had heard oral arguments in the case in December 2008, when she was a judge on the 2nd Circuit U.S. Court of Appeals, but did not participate in the final ruling from that bench. By then she had been nominated to the Supreme Court. She did not participate in the current appeal.
Arar's legal battles have received wide publicity in the United States and Canada. The Ottawa government apologized to him for inaccurately telling American investigators he was an Islamic fundamentalist with connections to al Qaeda.
Arar was detained initially in 2002 at Kennedy International Airport in New York, while en route to Canada from Tunisia. He was turned over to Syria and held for a year before being released without charges, and eventually returned to Canada. Canadian authorities paid Arar nearly $10 million to settle his suit against them.
The telecommunications engineer later sought damages from former Attorney General John Ashcroft, former Homeland Security Secretary Tom Ridge, FBI Director Robert Mueller, and several other ranking officials.
The Justice Department has repeatedly said Arar was lawfully deported, not rendered, to Syria and that Syria had assured the department the man would not be tortured.
Arar described to CNN in 2006 what he allegedly endured when in Syrian custody.
"I was beaten with a cable on multiple occasions. I was abused psychologically from time to time," he said.
He said he "tried my best to answer [his captors], you know, since I had nothing to hide. But the Syrians, they basically beat first and asked questions second. And that's what they did to me. In fact, on the third day, to my surprise, they wanted me to confess that I had been to a training camp in Afghanistan, which at the end of that day, I falsely confessed, to try to stop the beating. The beating did not stop. But it decreased in intensity after that false confession."
His lawyer had denounced the federal appeals court's initial July 2008 decision against him. "It makes me sick," said Maria LaHood, an attorney with the Center for Constitutional Rights. "The ruling condones what U.S. officials did here, and makes it possible to do it again."
There was no immediate reaction to Monday's court's decision from Arar's lawyers or the Justice Department.
Many members of Congress have expressed sympathy for Arar. At a House hearing in 2007, he testified by video hookup from Canada, describing his ordeal.
U.S. anti-terrorist officials have said in the past they had secret evidence in addition to that provided by Canada, linking Arar to terrorism.
The federal appellate court had ruled that if Congress wanted to pay financial damages "to redress the type of claims asserted by Arar" it could do so. "The fact remains, however that Congress has not done so," the court majority said.
Sotomayor had raised questions about the government's claim of immunity when she heard the appeal 18 months ago.
"So the minute the executive [federal government] raises the specter of foreign policy, national security, it is the government's position that is a license to torture anyone? A U.S. citizen or a foreign citizen? License meaning you can do so without any financial consequence. That's your position?" she asked a Justice Department lawyer arguing the case.
The brief filed by the Justice Department said this case has not yet reached the stage where the justices would need to decide the larger questions of whether torture of foreign nationals was condoned or facilitated by U.S. officials. Officials reiterated that President Barack Obama has repeatedly "stated unequivocally that the United States does not engage in torture."
That brief was filed May 12, two days after Elena Kagan was nominated by the president for the high court. As solicitor general she was the government's top lawyer in Supreme Court cases, and may have to recuse herself -- presuming she is confirmed to the court and the case returns -- if she participated in internal discussions over the pending appeal. Her exact involvement has not been publicly revealed. She backed out of the affiliation with case when she was nominated.
For his part, Arar told CNN he wants a chance to hold officials accountable. "My story speaks about basic human rights abuses that happen after 9/11" terror attacks, he said. "This was a deliberate attempt to send me to Syria to extract information under torture. Now what I would like the U.S. government to do is to accept the findings of the [Canadian] inquiry and to clear my name. That's what I'm asking them to do at the minimum."
The case is Arar v. Ashcroft (09-923).
FOLLOW THIS TOPIC