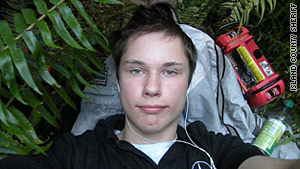 Colton Harris Moore is shown in a self-portrait found in a stolen camera left in a stolen car.
STORY HIGHLIGHTS
Attorney offered $50,000 reward to Colton Harris-Moore if he would surrender
Deadline passes Tuesday without a word from Harris-Moore
Teen is known as the "barefoot burglar" and continues to elude police
He has become an internet folk hero; Facebook page has 20,000 fans
Seattle, Washington (CNN) -- If the choice was take the money or run, "barefoot burglar" Colton Harris-Moore's decision apparently was to keep running.
A surrender deadline for Harris-Moore, who faces at least a dozen counts of burglary, identity theft and evading law enforcement, passed Tuesday without word from the fugitive. Had he chosen to end his two years on the lam, Harris-Moore would have received $50,000 from a "concerned, anonymous donor" said attorney Jim Johanson, who announced the offer last week.
Johanson said he had offered to defend Harris-Moore, who has become an Internet folk hero as he continues to run from police, often without shoes.
Harris-Moore has been sought by authorities since 2008, when he allegedly escaped from a youth home while serving a three-year sentence. He had pleaded guilty to three counts of home burglary.
In addition to the charges he faces, the San Juan County Sheriff's office has also called Harris-Moore a suspect in four thefts of small airplanes. They were recovered after "hard landings" that in several cases resulted in thousands of dollars in damage to the planes. In June, the San Juan County Sheriff's Office also said Harris-Moore was a suspect in the recent theft of a fishing boat.
Harris-Moore has not been charged in the boat or plane thefts. But the alleged escapades have won him a Facebook page with over 20,000 fans and profiles in magazines such as Rolling Stone, Maxim and Time, which called him "America's most wanted teenager." A movie titled "Taking Flight: The Search for a Young Outlaw" is also reportedly in the works.
For authorities chasing Harris-Moore, his growing fame has been an annoyance. Police believe the attention on the young fugitive is wrongly focused.
"It should be about the apprehension of an adult felon criminal and not so much about making this person into a Robin Hood or cult hero," said Mark Brown, the sheriff of Island County, Washington, where Harris-Moore grew up. In his home county, Harris-Moore faces charges of burglary, identity theft and running from a stolen car that he allegedly crashed into a restaurant.
In March, police descended on nearby Orcas Island with helicopters, search dogs and SWAT teams in response to a reported Harris-Moore sighting. But a day spent combing the island failed to uncover his trail.
"It's just a matter of time before someone -- Colt, a police officer or private citizen -- gets hurt," said attorney Johanson. The $50,000 his client put up for Harris-Moore's surrender was placed in a private trust, Johanson added.
His client "wants a peaceful resolution. There have been some pretty close calls," the attorney said.
There is no way of knowing if Harris-Moore is even aware of the offer. A telephone number for his mother was disconnected and messages left by CNN for an attorney she reportedly hired were not returned Wednesday.
For at least one of the fugitive's so-called fans, turning down the money and chance to surrender was a no-brainer.
"Don't take the money! Your name and reputation is worth WAY more than 50k," said a recent posting on Harris-Moore's Facebook page.
FOLLOW THIS TOPIC