Alleged killing spree plan was not teen's first, DA's office says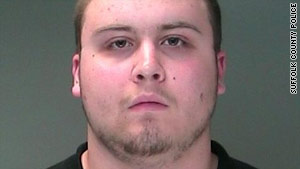 Police say Christopher Franko's social worker told authorities that she suspected the two were planning an attack.
STORY HIGHLIGHTS
Teenager pleads not guilty to conspiracy charge
He is accused of planning to kill students and teens at his former high school
District attorney says Christopher Franko had plotted a similar attack in 2007
16-year-old girl also charged in latest alleged plot
New York (CNN) -- A New York teenager charged with conspiring to kill faculty and students at a Long Island high school had plotted a similar attack in 2007, the Suffolk County District Attorney's Office said Tuesday.
Christopher Franko pleaded not guilty on Tuesday, his 18th birthday, at an arraignment on a grand jury indictment charging him with one count of second degree conspiracy, district attorney spokesman Robert Clifford told CNN. The teen, who was arrested May 6, could face up to 25 years in prison if convicted.
A 16-year-old girl, identified as a friend of Franko, was arrested April 30 in the same alleged plot. Suffolk County Police said the girl's cell phone showed the two had traded text messages about buying guns and killing people. Her computer revealed online searches for information about explosives and bomb making, police said.
Clifford told CNN that the police were tipped off when Franko's social worker relayed her suspicion that the two were planning an attack.
The attacks were aimed at Connetquot High School in Bohemia, New York, where the girl is a student and Franko formerly was a student, the police department said in a written statement.
The Suffolk County Police said the evidence led them to conclude that between February and April of this year the two teens were planning an attack that would take place on Thursday of this week.
Police said the two had attempted to buy firearms, but were turned away because they were minors, authorities said. They were waiting until Franko's 18th birthday to buy firearms for the attack, Clifford told CNN.
The girl was released on her own recognizance after her arrest, the police department said. She is scheduled to appear in court June 17 on a grand jury indictment.
In 2007, Franko and a 17-year-old boy planned to attack Connetquot high school and the fast food restaurant where they both worked, Clifford said.
The 17-year-old, Michael McDonough, was charged as an adult and pleaded guilty to counts of reckless endangerment and conspiracy. State Supreme Court Justice Robert W. Doyle sentenced him to five years probation and counseling.
Franko was tried in family court and did not face charges as an adult in that case, Clifford said.
Calls to the school and school superintendent were not immediately returned.
CNN's Deborah Brunswick contributed to this report.
FOLLOW THIS TOPIC