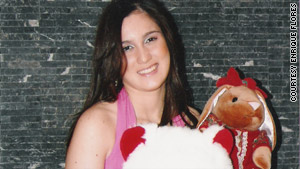 Stephany Flores Ramirez, who loved to play poker, allegedly met Joran van der Sloot while playing cards.
STORY HIGHLIGHTS
Stephany Flores Ramirez's father panicked when she didn't come home from poker tournament
Hotel workers told family that young woman was with man who "looked like Brad Pitt"
Videotape shows Flores entering hotel room with Joran van der Sloot
Flores was a university student and an avid poker player, her brother says
(CNN) -- It was unlike Stephany Flores Ramirez not to come home on time. An avid poker player, the Peruvian 21-year-old lived with her father and knew he was expecting her after a night at a Texas Hold 'em tournament on May 30 in Lima.
"My father called me and said Stephany didn't come home, help me," Stephany's older brother Enrique Flores told CNN on Sunday. "So I went to the house and we started calling all the numbers of my sister's friends that I had and we called the police."
Eventually, authorities found surveillance video of the young woman at the hotel where the tournament was held. They found footage of Joran van der Sloot sitting next to Stephany, he said.
"At first, it was a relief because I saw her and that gave me hope," Enrique Flores said. "The people at the hotel told us, 'Yeah, she was with this guy. He seemed nice. He looked like Brad Pitt.'"
Van der Sloot is widely known as a suspect in the high-profile 2005 disappearance of Alabama teen Natalee Holloway in Aruba. The Dutch 22-year-old has repeatedly denied involvement in that case. He has twice been arrested and released but has not been charged.
Late Monday, Peruvian government authorities said Van der Sloot confessed to Flores' murder. He will likely be held at one of three maximum security prisons -- Castro Castro, Piedras Gordas and Lurigancho, authorities said.
Flores' battered body was found last week in a hotel room registered to van der Sloot. Hotel videotape clearly shows the two entering a room together May 30 at 5:16 a.m. local time. Three hours and 20 minutes later, he left the hotel by himself carrying a backpack, telling the hotel staff not to bother "his girl," police said.

Video: Judge: probe can continue

Video: Van der Sloot held by Peruvian police

Video: Cops: Baseball bat used in Peru murder

Video: Van der Sloot seen in hotel with victim
The Flores family is well known in Peru. Patriarch Ricardo Flores is a politically connected former race car driver. The four Flores sons, including Enrique Flores, run a successful event-planning business.
After police showed Enrique and his father the surveillance tape, they again began trying to find out more from people at the hotel, and obtained information about the man on the tape.
"They gave us his social security number and his name," the brother told CNN. "We came back home and searched his name on the Internet. I cannot tell you the shock we felt."
"My wife typed 'Joran van der Sloot' into Google and started screaming for me to see," Enrique Flores told CNN on Sunday. "I couldn't believe it. How could it be that guy?"
"All I have been doing is reading about Natalee Holloway and what her family has gone through," Flores said.
Stephany Flores was a trusting young woman, her family said.
"My sister is very friendly ... always smiling, always nice to everyone," said Enrique Flores. "I think about how she felt with him, that she probably did not think ... and it is ... so hard to think about that."
"My sister was the only girl in our house, the queen of our family," he continued. "What she wanted, she got. She loved to play soccer" and would organize matches with her friends in the family's backyard.
She was in her third year studying business administration at University of Lima, and ran the merchandising arm of the family entertainment and event-promotion business, Enrique Flores said.
"She had a lot of friends," he said. "A lot of people are crying."
About an hour after Enrique Flores found out who the man on the videotape was, police called to say they had found his sister's body. Investigators believe a tennis racquet found in the room was used in the killing, said Carlos Gonzalo, a spokesman for Peru's Interior Ministry.
When authorities knew who they were looking for, they found van der Sloot traveling alone in a taxi in Chile. Authorities said he had bloody clothes with him. He was taken into custody and transported to Peru where he remains jailed.
Before van der Sloot's confession Monday night, a Peruvian judge extended for another week the investigation into the killing, and the Dutch suspect was to remain jailed in Lima, Gonzalo said.
In Alabama on Thursday, the FBI announced van der Sloot is being charged in the United States for allegedly trying to extort $250,000 from someone related to the Holloway case. Van der Sloot allegedly promised to disclose the location of Holloway's body.
In the hours after his sister's wake, Enrique Flores is gripped with grief, sadness and determination. He cannot stand to talk for long about his sister until his voice cracks and he asks if the interview can please end. One sentence, though, before it does.
"We just want justice," he said.
CNN's Rafael Romo contributed to this report.
FOLLOW THIS TOPIC