STORY HIGHLIGHTS
NEW: Dutch Consulate offers defense attorney to suspect
Victim beaten by tennis racquet, authorities say
Investigators testing for DNA on clothes, tennis racquet
Van der Sloot facing charges of killing a Peruvian woman
Dutch citizen arrested twice, released in 2005 disappearance of Alabama teen
Lima, Peru -- Murder suspect Joran van der Sloot arrived Saturday at the Lima police headquarters in Peru, where he is facing charges that he killed a Peruvian woman.
Van der Sloot, handcuffed and wearing a protective vest, was escorted through a news conference held by Peruvian authorities as photographers snapped photo after photo.
The body of 21-year-old Stephany Flores Ramirez was found Wednesday in a Lima hotel room registered to van der Sloot, a Dutch citizen who was twice arrested and released in connection with the 2005 disappearance of American teenager Natalee Holloway in Aruba.
Flores' body was badly beaten and investigators believe a tennis racquet in the room was used in the killing, Carlos Gonzalo, spokesman for Peru's Interior Ministry, told CNN. Despite reports that a baseball bat was the murder weapon, Gonzalo said there was not a baseball bat in the room.

Video: Holloway's uncle on van der Sloot arrest

Video: Victim's family speaks

Video: Beth Holloway: I still have hope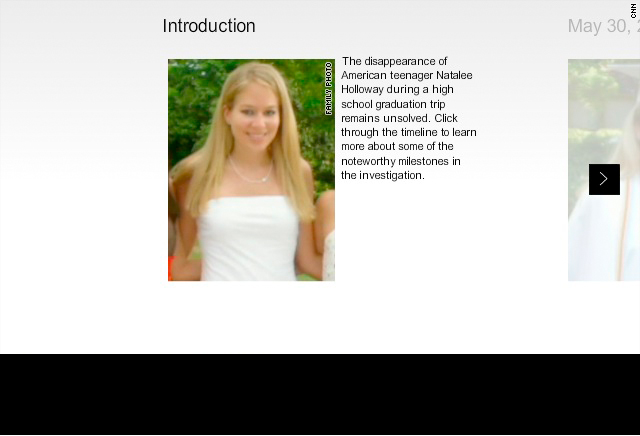 Timeline: Natalee Holloway case
The Dutch Consulate is now involved in the case and has volunteered a defense attorney for van der Sloot, according to Carlos Neyra, a spokesman for the Peruvian Investigative Police.
Gonzalo said van der Sloot has asked for his mother, though authorities couldn't confirm whether she's coming to Lima.
Surveillance video from a casino on May 30 shows Flores and van der Sloot playing cards at the same table, he said. The woman won about 5,000 soles (about $1,755), though it was not found in the room or the victim's car, Gonzalo said.
He said "they found bloodied clothes with" van der Sloot and that investigators are testing them, as well as the tennis racquet, for DNA.
He added that there is no other suspect connected to Flores' death.
A hotel worker is seen in a surveillance video speaking to van der Sloot as he is leaving the hotel, Gonzalo said. When investigators questioned the workers, he told them that van der Sloot told him "don't bother my girl." Van der Sloot indicated that he would be returning to the room, according to the worker.
The hotel workers became suspicious after no one else left the room, and eventually a foul smell came from it, Gonzalo said. It wasn't immediately clear how much time lapsed between the conversation on video and workers noticing the smell.
Chilean authorities delivered van der Sloot to their Peruvian counterparts on Friday in the border town of Santa Rosa, where he was greeted by hecklers and dozens of media personnel jostling for position to get a better picture of the Dutch citizen.
The Dutch Consulate has told Peruvian authorities that it is not comfortable with the way van der Sloot has been presented to the media, Neyra said. The Peruvian Minister of the Interior is asking authorities not to talk about the case without his authorization.
Paperwork showed that van der Sloot entered Chile the same day Flores' body was found, Chilean police told CNN. He was captured in Chile on Thursday and transported to the border to be expelled, said Macarena Lopez, a spokeswoman for Interpol.
The Chileans drove van der Sloot across the border to a Peruvian police station. He made a 100-foot walk from the car to the station as journalists pushed past a police line and a handful of hecklers rained loud and angry obscenities on the suspect's head.
Van der Sloot was taken inside the station for processing. From there, he was to be taken to the nearby town of Tacna and then flown to Lima.
Holloway was on a high school graduation trip to the Caribbean island of Aruba in 2005 when she disappeared. Van der Sloot was arrested twice in connection with the case but released both times. He denied any involvement and has not been charged.
Van der Sloot also faces an arrest warrant on charges of extortion and wire fraud in Alabama, U.S. Attorney Joyce Vance said Thursday. The charges are unrelated to the killing of the Peruvian woman and deal with an attempt to sell details about Holloway for $250,000, Vance said.
CNN's Mayra Cuevas contributed to this report.
FOLLOW THIS TOPIC