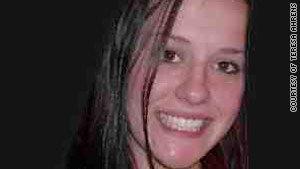 Kyla Porter, who has been missing since 2008, might be a victim of foul play, authorities say.
STORY HIGHLIGHTS
Kyla Porter, 19, was last seen at her sister's house in Holiday, Florida
She called the night of February 15, 2008 and said she was at a party
Police didn't enter the case until weeks later; they suspect foul play
Know something? Call Tampa Bay Crimestoppers at (800) 873-TIPS
New York (CNN) -- At first, no one considered the possibility that Kyla Porter might be gone forever when she left her sister's home on February 15, 2008.
She had recently returned to Florida after a brief move to Georgia with her fiancé. When he was jailed on a drug charge, she decided the best place for her was back home in the Tampa Bay area, her mother said.
Teresa Ahrens told CNN her daughter was struggling to find her way in life. "She felt so lost," she said. "I knew it was devastating for her but I told her to keep her chin up."
Porter moved in with her sister, Lynn, in Holiday, a small town north of Clearwater.
She didn't always relish the added responsibility of helping to look after her sister's two children, Ahrens said, although she adored the kids. Like most 19-year-olds, she was focused on her friends.
"When she got the opportunity to go and stay with one of her friends, she would do that," her mother said.
The sisters soon struck up a routine. "I didn't have to be at work until late," said Lynn Porter, who worked at a pizza parlor, "So I'd wake up in the morning with my kids and take them to daycare and my mom picked them up."
She felt so lost ... I told her to keep her chin up."
--Teresa Ahrens, mother
Ahrens' car didn't start that afternoon, so she asked Kyla's twin sister, Sharisa, to pick up the children from daycare. She forgot to mention that Kyla was also waiting for a ride.
Lynn Porter got off work at around 10:30 p.m. She picked up her children from her mother's house and on the way home, received a call from Kyla, who said she was at a party and would be home in about an hour.
That hour turned into days, then weeks, and then months. But Kyla never came home.
"When she didn't show up the next day, I started to get worried," her sister said, explaining that Kyla always made an effort to let her family know she was okay.
Ahrens called a friend Kyla said she was with at the party. But Ahrens said the friend told her she had not seen Kyla for weeks, then became irritated and abruptly hung up the phone.
"What irritated me is that someone was lying to me," Ahrens said. "Why would Kyla be lying, or why would [her friend] be lying?"
Lynn Porter said her mother also phoned the friend's mother. "They didn't want to have anything to do with it and her mom said, "'Don't harass my daughter.'"
Ahrens knew something was wrong because Kyla didn't take any belongings with her. "She left with just the clothes on her back," she said. "She didn't even take her ID."
You just picture her scared and wondering if we're coming.
--Lynn Porter, sister
Two weeks passed with no word from Kyla. Ahrens called police.
"They didn't take me seriously to begin with because she had gone away before," Ahrens said. "They said give it about a week or so and if she hasn't turned up, then we'll do a report."
The delayed report caused difficulty for the investigation, said Sergeant James Sessa of the Pasco County Sheriff's Office Major Crimes Unit. "It was a tremendous obstacle for us."
Detectives talked to Kyla Porter's family, friends and last known associates. "Unfortunately, nothing came out of it," Sessa said.
Lynn Porter is the last known person to have seen her sister, Sessa said. "Nobody can tell us anything from that point on -- where she was, who she was with."
Kyla Porter posted a comment on a Facebook photograph on February 9, a week before her sister last saw her, Ahrens said.
"Boy we had fun that night," Kyla wrote next to a photograph showing friends on a trip she had made to Universal Studios several weeks earlier.
"The electronic correspondence ceased," said Sessa. "There's been nothing else."
And the Tampa-area phone from which Kyla called her sister proved to be untraceable. According to Lynn Porter, her prepaid Metro PCS cell phone stored only 10 numbers. By the time she realized how important the number would be, it had already been deleted from her phone.
I haven't even been able to bury her, how can I just, poof, let her go?
--Teresa Ahrens, mother
"I kick myself every day for not taking that number down," Lynn Porter said. "You just picture her scared and wondering if we're coming."
Months into the investigation, Ahrens said, an online rumor surfaced suggesting the party that Kyla attended took place in Moon Lake, a rural swamp approximately 15 miles away from her sister's home.
"That's known in our area as a really bad place to go," said Ahrens, who drove there to look for Kyla. "I was even hollering my daughter's name out the window, thinking that if someone was holding her in their house she could hear me," she said.
The case continues to be treated as open and ongoing, Sessa said, adding that everyone they talked with who might be considered suspicious has an alibi.
Ahrens insists that the alibies checked out only because detectives questioned Kyla's associates based on an incorrect date Ahrens originally gave investigators.
According to Sessa, there have been more than two-dozen tips in the case, one of which was received last month and is being pursued.
Sessa said detectives believe Kyla might be the victim of foul play.
"I'm just so desperate," said Ahrens. "I spend 24 hours a day with this on my mind. I just want somebody to come forward and tell me what happened to my daughter."
"I haven't even been able to bury her, how can I just, poof, let her go?"
The website lostnmissing.com is adding a page on Kyla, and a $1,000 reward is offered for information leading to her whereabouts or an arrest.
Porter has brown hair and eyes, is 5 feet, 4inches tall and weighed 125 pounds at the time she disappeared. she has several tattoos. The Pasco County Sheriff's Office asks anyone with information concerning the disappearance of Kyla Porter to call Tampa Bay Crimestoppers at (800) 873-TIPS.
FOLLOW THIS TOPIC