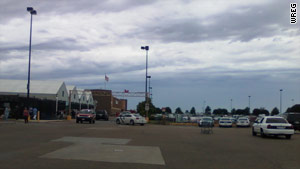 Two police officers were shot with an assault weapon and killed in West Memphis, Arkansas.
STORY HIGHLIGHTS
Police release names of suspects in police shooting
Two civil rights groups say suspects are part of anti-government movement
Two police officers shot, two wounded
(CNN) -- Two suspects accused of gunning down Arkansas police officers this week may have ties to extremist anti-government groups, two civil rights organizations say.
Jerry R. Kane, 45, and his 16-year-old son Joseph Kane fatally shot two police officers and wounded two others during a wild shootout Thursday, according to Arkansas state police.
The father and son were shot and killed during the battle on the streets of West Memphis, Arkansas.
The Anti-Defamation League said the two suspects belonged to "an extreme right-wing movement that believes that virtually all existing government in the United States is illegitimate and which seeks to restore an idealized, minimalist government that never actually existed."
The Southern Poverty Law Center, a nonprofit civil rights organization, also said the two member are part of the "sovereign citizen" movement.
"If Jerry Kane is proven responsible for these tragic murders, it would be a new page in the same old book for the sovereign citizens, who have assaulted or killed a number of law enforcement officials in the past 20 years, especially during traffic stops," the ADL said in a statement.

Video: Police chief's son dies in Arkansas shooting
The Southern Poverty Law Center released Internet footage they say is the elder Kane preaching the sovereign citizen philosophy.
Police in Arkansas have been tight-lipped about a motive in the killings, stating that releasing too many details could hurt their investigation.
The incident began at 11:36 a.m. (12:36 p.m. ET) Thursday, when West Memphis patrolman Bill Evans made a traffic stop on a white minivan traveling eastbound on I-40 , said Bill Sadler, spokesman for the Arkansas state police.
After the vehicle exited the Interstate onto an off-ramp, Sgt. Brandon Paudert arrived on the scene as backup, Sadler said.
"It is our belief that Officer Evans was shoved to the ground by one of the suspects in the minivan and gunfire was directed at both officers," Sadler said.
The suspects then fled, driving east in the minivan, leaving one man dead and the other fatally wounded.
Within minutes, officers from other agencies -- including the Arkansas state police and the Arkansas Fish and Game Commission -- began to converge on the area, looking for the suspects, he said.
About 90 minutes later, a minivan believed to be the one that had been seen leaving the shooting site was spotted in a parking lot of a nearby Wal-Mart, Sadler said.
There, it was approached by Crittenden County Sheriff Dick Busby and Chief Enforcement Officer W.A. Wren, who were traveling in the same vehicle, he said.
Both men were wounded in a gunbattle initiated by the suspects, who were using a long rifle and a handgun, Sadler said.
The gunbattle ended after "a very brave, young wildlife officer in his state truck rammed the suspect vehicle, preventing an exit of the suspects," who were then killed, Sadler said.