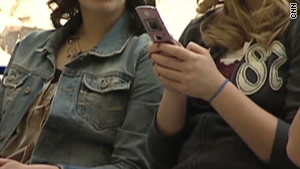 A school district is being sued after a woman claims officials saw semi-nude photos on her cell phone and notified police.
STORY HIGHLIGHTS
Lawsuit alleges school violated privacy by looking at pictures on student's cell phone

ACLU says search went beyond what the law allows

Former student wants damages, deletion of any stored copies of photos

(CNN) -- A 19-year-old Pennsylvania woman sued her former high school Thursday, claiming school officials invaded her privacy and violated her free-speech rights when they confiscated her cell phone, found semi-nude photos stored inside and turned the phone over to authorities.
The federal lawsuit, filed by the American Civil Liberties Union, says looking at photos on the woman's phone was like opening her mail or viewing private home videos.
"This search was much farther than what the law allows," said Valerie Burch, an attorney for the ACLU of Pennsylvania. "There was no reason to go looking for these pictures on her phone, and unless you have a very good reason, you can't go through someone's private things. We think it is a grave violation of her privacy."
Tunkhannock Area School District officials said they were reviewing the complaint and declined to comment further Thursday.
The lawsuit alleges that the trouble began after a teacher confiscated the cell phone of the student, identified in the suit only as N.N., when she broke school rules by making a call on campus in January 2009.
She was later called to Principal Gregory Ellsworth's office, suspended for three days and told that her cell phone had been turned over to authorities after Ellsworth found semi-nude and nude photos inside, the lawsuit says.
Wyoming County District Attorney George Skumanick Jr. later sent a letter to the school, the lawsuit alleges, threatening to bring child pornography charges against the student unless she completed a re-education course on sexual violence and victimization. N.N. took the class out of fear that she would be prosecuted, the complaint claims.
Skumanick could not be reached for comment.
When other students at the same high school were caught allegedly sending nude and semi-nude photos on their cell phones last year, Skumanick gave them a similar choice: taking re-education classes or facing charges.
"An adult would go to prison for this," Skumanick told CNN when discussing those incidents in 2009. "If you take the photo, you've committed a crime. If you send the photo, you've committed a different crime, but essentially the same crime."
The lawsuit says N.N.'s photos were never printed, distributed or uploaded on the Internet and were intended to be seen only by the student and possibly by her long-time boyfriend.
The lawsuit lists the Tunkhannock Area High School, Ellsworth, Skumanick, the teacher who confiscated the cell phone, a police detective, Wyoming County and several others as defendants.
In the lawsuit, N.N. says she wants damages, reimbursement for the re-education course she was required to take and the deletion of any stored copies of the photographs.
"We are aware of the lawsuit, and we do have an unofficial copy, but we haven't received any formal documentation. We have been in contact with our solicitor, who will be handling the matter, and as such we will have no further public comment at this time," Tunkhannock Area School District Superintendent Michael Healey told CNN.
Solicitor Frank Tunis said officials were reviewing the complaint but declined to comment further.