Pakistanis arrest man in connection with Times Square case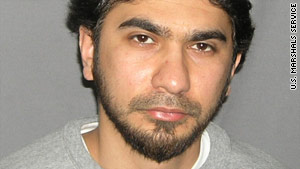 Faisal Shahzad faces five counts in connection with the botched bomb attempt in New York's Times Square.
STORY HIGHLIGHTS
NEW: Information pointed to planned attack in Pakistan, U.S. official says
Son of caterer arrested in Pakistan, officials say
Arrest linked to Times Square case
U.S. warns Americans to avoid using caterer
Islamabad, Pakistan (CNN) -- Pakistani authorities have arrested the son of a prominent catering company owner in connection with the attempted Times Square bombing case, U.S. and Pakistani officials said Friday.
Salman Ashraf was taken into custody a few days ago, the officials said.
His father, Rana Ashraf Khan, who owns Hanif Rajput Catering, said that he was shocked by the news of the arrest and that his son had been missing for the past 12 days.
Salman Ashraf had been talking to the Taliban about fingering Pakistani military and other VIPs at diplomatic and other government events, according to a U.S. official with knowledge of the case.
Another U.S. official said there were indications that the company was going to be used as a cover for an attack in Pakistan.
There is "very specific information about a potential, imminent, plot," the official said. "Initial indications are it is a Pakistani target."
The information about Hanif Rajput Catering surfaced as a result of the Times Square investigation, the official said. Investigators are looking into whether the company has ties to the Pakistani Taliban.
The U.S. Embassy warned American citizens that terrorist groups might have set up ties with the Islamabad caterer, one of Pakistan's largest, and advised them to avoid using the company.
Faisal Shahzad, a 30-year-old Pakistani-American, faces five counts in connection with the botched bomb attempt in New York's Times Square on May 1. He could be sentenced to life in prison if convicted.
He also pondered attacks on Rockefeller Center, Grand Central Terminal and the World Financial Center in New York City; and Connecticut helicopter manufacturer Sikorsky, going so far as to case some of the targets, according to a senior counterterrorism official with oversight of the investigation.
Shahzad's arrest heightened concerns about the Pakistani Taliban, which authorities believe directed the Times Square plot. U.S. intelligence officials fear that the Taliban is actively plotting to strike within the United States and target American interests overseas.
The concerns about the group are coming from multiple streams of information, including from Shahzad, the officials said.