Doors to civil rights group's headquarters padlocked, welded shut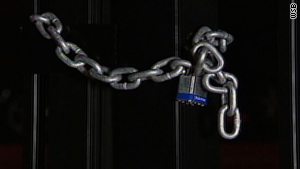 The Southern Christian Leadership Conference building doors were discovered locked up Monday night.
STORY HIGHLIGHTS
Action comes amid power struggle between factions claiming leadership of SCLC
The Rev. Markel Hutchins: Doors secured to keep current leadership out of the building
Sylvia Tucker: Conduct "is the act of reckless individuals"
Hutchins wants to lead SCLC, claims to be on board; Tucker is SCLC chairwoman
Atlanta, Georgia (CNN) -- The doors to the headquarters of the Southern Christian Leadership Conference civil rights group have been welded shut and padlocked, an escalation in a power struggle between two factions claiming leadership of the organization, the two sides said Tuesday.
The doors were discovered shut Monday night.
The Rev. Markel Hutchins, a recent aspirant to the organization's presidency who claims to be on the board, said the doors were welded and padlocked to keep the current leadership out of the headquarters building.
"They refused to leave the building, and under the law you can't remove them forcibly," Hutchins told CNN affiliate WSB. "So what we had to do was make certain we secured the building while no one was inside to protect the safety and security and the integrity of the organization."
"I am troubled by this conduct. It is the act of reckless individuals," SCLC Chairwoman Sylvia Tucker said in a statement released Tuesday.
"Hutchins has no right to be on SCLC property," Tucker said. "His conduct of vandalizing and damaging SCLC property proves that Hutchins will do anything to try to control the SCLC."
Tucker and her faction say that Hutchins has never been on the board of the SCLC or been a national officer for the organization.
The Rev. Martin Luther King Jr. was one of the co-founders of the SCLC, which was formed in 1957 to coordinate protest activities across the Southeast, the group's website says.
The organization has seen a power struggle dating back about a decade, said Ralph Luker, a retired professor who specialized in the civil rights movement and has been an observer of the SCLC. But the current crisis stems from accusations that former officers diverted SCLC funds into non-SCLC accounts, he said.
Those charges remain under investigation.
A former chairman and former treasurer were removed from the board, and those who backed them formed the faction that is quarrelling with the current leadership. Hutchins aligned himself with the faction backing the ousted leaders, Luker said.
Hutchins ran for SCLC president last year but was defeated by Bernice King, Martin Luther King Jr.'s daughter. He was then appointed to the board by the faction led by the ousted chairman, a move that a judge has since ruled invalid.
"That essentially is what this is about: who effectively is going to control the organization," Luker said.