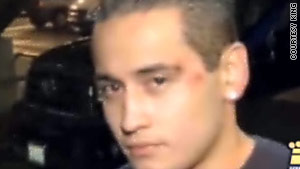 The video shows officers kicking a man on the ground, later identified as Martin Monetti.
STORY HIGHLIGHTS
News director resigns after station delayed release of controversial video
Videographer: Station had ulterior motive; Q13 denies relationship with police
Q13, a CNN affiliate, airs the show "Washington's Most Wanted"
NAACP criticizes station, police department and calls for hate-crime prosecution
(CNN) -- A news director for Seattle TV station KCPQ has resigned in the wake of accusations that the station dragged its feet in airing a controversial video that appears to show a police officer using a racial insult while stomping a man.
The beating and the news station's admission that it held on to the controversial video for several days has fueled community outrage toward the Seattle Police Department and criticism toward CNN affiliate KCPQ, also known as Q13.
The media firestorm began after freelance videographer Jud Morris shot video of police detaining a group of men on April 17 after a robbery. The video shows officers kicking a man on the ground, later identified as Martin Monetti. The officer can be heard yelling, "I'm going to beat the [expletive] Mexican piss out of you, homey. You feel me?"
Afterward, the officers pick the man up and steady him upon a car. One of the officers says: "I want you to relax your weight on the car, OK? All right. Put your hands back so you don't fall down. All right?"
CNN was unable to reach Morris Friday afternoon.
Morris said he turned the video in to Q13 editors, but the station declined, Morris told KIRO. "I was told 'We're definitely not going to run this. It's not egregious. The cop didn't do anything wrong,'" Morris said.

Video: Video shows cops kicking innocent man
A couple of days later, Morris claimed he was fired by Q13, according to KIRO, another CNN affiliate in Seattle. Morris then posted the police beating video to YouTube, where it garnered national attention. He then sold it to KIRO, which ran the video as a top news story last week.
Q13 subsequently aired the video, almost three weeks after originally receiving it.
Morris told KIRO that Q13's refusal to run the video at first was due to "a close relationship with police agencies, because it airs 'Washington's Most Wanted,'"
"'Washington's Most Wanted' is their moneymaker," he told KIRO.
In a statement on its website earlier this week, Q13 disputed allegations that it tried to protect the police department. "That allegation is completely false," Q13 said.
"Some have suggested our relationship with the Seattle Police Department and other law enforcement agencies around the state, and the fact that we air 'Washington's Most Wanted' may have compromised our judgment in this case. We understand those concerns, but think they are misguided. This was simply a case of taking too long to do the job you expect of us, nothing more," Q13 said.
Two days after Q13's statement, Steve Kraycik, the station's news director, announced his departure to his staff. Senior assignment editor Cheri Mossburg had been fired the previous day.
Criticism of the police officers' actions has come from several civil rights groups, including the American Civil Liberties Union and El Centro de la Raza. Meanwhile, Q13 has also been criticized by other journalists for not showing the tape earlier.
See ACLU statement on police beating (KIRO)
The National Association of Hispanic Journalists, in a statement on its website, deplored the TV station's response for not showing the video earlier.
"Q13's statement ... is weak, unfounded and demonstrates the station's failure to uphold its most basic responsibility as a newsgathering organization: to report the news," NAHJ said.
At a news conference earlier this week, Seattle/King County NAACP President James Bible accused the station of choosing to protect the Seattle Police Department rather than citizens, according to CNN affiliate KING5.
See letter from NAACP to prosecutor (KIRO)
"We are also concerned about media suppression," Bible said. "In this case, for whatever reason, Channel 13 chose to foster its relationship with law enforcement rather than support news in relation to a public safety issue in the presentation of it to the people."
An internal police investigation has begun and the FBI is conducting an inquiry, according to KIRO.
Gang unit Officers Shandy Cobone, who has publicly apologized for his role in the incident, and Officer Mary Lynne Woollum, have been reassigned, according to KIRO.