STORY HIGHLIGHTS
Donna Green's son, Raymond, was 6 days old when he was abducted
31 years later, she thinks a chance meeting with a sketch artist will help find him
Baby was taken by a woman who befriended the young mother in the hospital
Have information in this case? Please call 1-(800)-843-5678
New York (CNN) -- The only picture Donna Green ever had of her son, Raymond, was in her mind.
"I don't have a picture of him. I never had a picture," Green says about the fair-skinned baby boy snatched 31 years ago from her home in Atlanta, Georgia.
That changed last month when Green had a chance meeting with Diana Trepkov, a certified forensic artist. Both women had traveled to Wilmington, North Carolina, to attend a conference hosted by the CUE Center for Missing Persons.
"I was sitting in the hotel lounge, and Diana walked by," Green said. "It just came to me go speak to her."
Trepkov, who uses cognitive memory interview techniques to help create composite sketches, told Green she could help if Green could recall what happened.
"Four pages of information just poured out," Trepkov said. "We talked about the smells, the weather that day."
Green, who had Raymond as a teenager, remembered staring at her baby through the nursery windows at Grady Memorial Hospital several hours after he was born.
"That's where I met Lisa," Green said. "She was standing there looking at the babies through the glass."
She was standing there looking at the babies through the glass.
--Donna Green, mother of abducted newborn
The woman Green described as having warm eyes, a nice smile and a bandana tied around her head pointed to a baby girl on the other side of the window. The woman said the infant belonged to her sister, who was tired from labor and had fallen asleep in her hospital room.
Lisa was 23 or 24 years old, about 5-foot-5, with smooth, light skin. She had a small nose, full lips and dark pupils, Green told Trepkov. The whites of her eyes were very white, and she wore a short, dark leather coat.
Green said she talked with Lisa for about a half-hour while they gazed into the nursery. Lisa asked Green if she could accompany her to her room so that they could continue to talk and so her sister could rest. Green was happy to have made a new friend.
"She stayed in my room for a while," Green said. "She was asking: Where do you live? What's your baby's name? Pretty much all the info she asked for, I gave it."
Green said Lisa told her that her last name was Morris, and that she lived nearby.
"They talked about everything," Trepkov said.
Lisa Morris visited Green's room throughout her hospital stay, alternating between visits with her sister. On the second night, Green awoke to find Morris in her room.
"I don't know whether she was going into the closet or getting out of it, but it was like she was trying to hide. ... I didn't think anything of it," Green said. "It's amazing how naïve I was."
The day that Green and her mother prepared to bring Raymond home, Morris was there to say goodbye.
"My mom and a friend of hers came to pick me up," Green said. Morris told Green she didn't have a ride home, so Green's mother offered to drive her there.
"They dropped me off first," Green said.
To Green's surprise, Morris showed up at her apartment several days later. Morris said she had taken the bus to come and see how Green and Raymond were doing. About an hour into the visit, Green headed upstairs to shower.
"Tony, watch the baby," she told her older brother, who had been sitting next to Raymond on a couch next to the stairs.
"I'll wait, I'll wait," Morris told Green.
When the story is alive again and they see the image, people start talking.
--Diana Trepkov, forensic sketch artist
"I think I was in the shower for about three minutes," Green told CNN. She got dressed and returned downstairs to find her brother sleeping on the couch, without Raymond. Green nudged her brother, told him to wake up.
"Tony said she picked the baby up to keep him from crying and she walked out the front door," Green said. "He thought she was my friend."
Green ran outside, shouting. Had anyone seen her baby? A woman told Green a lady with a small baby wrapped in a blue blanket had entered the passenger side of a brown car that pulled up and then drove away.
"That's my baby!" Green cried.
It was the last day she saw Raymond or Morris.
Green said the initial police investigation proved everything Morris had told her was false. There had been no patient at Grady Memorial Hospital with a sister named Lisa Morris. And there was no Lisa Morris in Atlanta fitting the description Green gave to police.
Lisa Morris' true identity was never determined. The investigation led nowhere. Eventually, Green said, police told her Raymond probably had been sold to someone outside the United States.
"The detectives never really talked to me about much," Green said. "They kind of brushed me off."
The original police file on Raymond's case was lost, Green said, making it difficult for her to solicit help. "It's as if Raymond never existed," she said. "I didn't know what to do other than pray."
CNN attempted to reach someone at the Atlanta Police Department for comment. After CNN's calls were referred to several departments, a cold case squad detective said he was familiar with the case but the investigation was no longer active.
For Green, her recent meeting with Trepkov breathed new life into Raymond's case. It had been years since Green had thought hard about the November day when she last saw her son. "It takes something out of me," she said.
After six hours of intensive questioning, Trepkov first drew a composite sketch of "Lisa," and then one of Raymond.
"It gives her a face to put out to the public," Trepkov explained.
Green admits she was aggravated when she saw "Lisa's" image.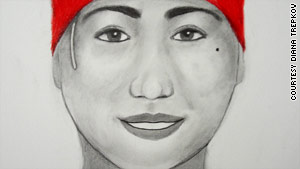 A composite sketch, based on Green's description, shows the young woman who took baby Raymond.
"It was like I was face-to-face with the woman who stole my baby," she said.
"But when I drew the baby, oh the joy in her face," Trepkov said. Green described Raymond in detail, especially his light skin, lazy eye and slick, black hair.
"It was a real surreal moment for me," Green said, adding she told the artist: "Don't put the picture back in your case. I just want to wrap him up and take him home ... that's the only picture I have."
Green hopes the sketches of Raymond and his abductor will help her continue the search. And while she doesn't want to raise her hopes too high, she is making efforts to investigate a recent claim by a man in Belize who believes he could be her missing son.
"It sparked my interest because the police said he was sold out of the country," Green said. "He's got this lazy eye."
The claim was received by the LostNMissing, Inc. The organization first added Raymond to its list of missing persons after the National Center for Missing and Exploited Children crated an age-progressed image five years ago.
Trepkov hopes Raymond's case can join others she has helped to solve.
"When the story is alive again and they see the image, people start talking," she said.
Green's search for missing children doesn't end with her own son. She participates in volunteer programs to help families who are victims of abducted children.
"I know what it's about to have a child missing and feel like nobody cares and it doesn't matter," Green said. "Those are the people I'm reaching out to."
Anyone with information concerning Raymond Green's abduction or current whereabouts is asked to call the National Center for Missing and Exploited Children at 1-800-843-5678.