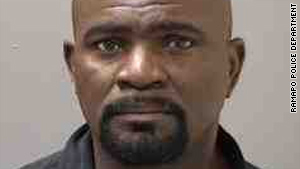 Lawrence Taylor's lawyer said he is "preparing to fight each and every one of those charges."
STORY HIGHLIGHTS
Man told client that 16-year-old girl was 19, complaint says
Lawrence Taylor, 51, charged with rape, patronizing prostitute
Nutrisystem says it has severed ties with Lawrence Taylor as a spokesman
Former New York Giants linebacker denies rape charges, lawyer says
(CNN) -- The man accused of bringing an under-age prostitute to ex-NFL player Lawrence Taylor told her to lie about her age, prosecutors alleged in a federal complaint against the man on Friday.
The complaint says the alleged pimp, Rasheed Davis, told a 16-year-old prostitute to tell a "Client-1" that she was 19. The federal complaint against Davis does not refer to the former New York Giants linebacker by name, but the description of "Client-1" matches that of Taylor in the complaint against him.
The rape charges filed against Taylor on Thursday are based on the allegation that he had sexual intercourse with a minor -- someone younger than 17.
The complaint against Davis also alleges that he assaulted the prostitute to coerce her into having sex with the client who matches Taylor's description.
In addition to the third-degree rape charges, Taylor -- a 51-year-old member of the National Football League Hall of Fame -- was charged Thursday with patronizing a prostitute, police in Ramapo, New York, said.
Taylor's attorney said his client denied the charges and will fight them.
"My client did not have sex with anybody. Period," said the lawyer, Arthur Aidala, adding: "Lawrence Taylor did not rape anybody."

Video: Attorney: Taylor 'devastated'

Video: Football legend arrested

Video: Geragos: 'Earmarks of a setup'
Taylor appeared at a Thursday afternoon court hearing where a judge set bail at $75,000. Taylor was not asked to enter a plea and later left the courthouse after posting bail.
He was arrested in a Holiday Inn room a few hours after the alleged rape took place, according to Christopher St. Lawrence, the town supervisor and police commissioner in Ramapo, about 30 miles northwest of New York City.
Friday's complaint against Davis said the man who matches Taylor's description told law enforcement authorities after he was arrested that he had taken a car service from Newark International Airport to the hotel, where he met the prostitute working for Davis.
The man matching Taylor's description paid the girl $300 in cash after "engaging in sex acts" with her, the complaint says.
Davis was arrested Thursday by New York City police on charges of sex trafficking the 16-year-old girl who appears to be the prostitute Taylor is accused of raping.
The complaint said that Davis offered the girl -- referred to as "Victim-1" -- a place to live for approximately $150 per week and then arranged work for her: having sex with clients. "On one or more occasions, Davis gave Victim-1 narcotics, including Ecstasy and marijuana, prior to causing Victim-1 to engage in commercial sex acts," the complaint says.
Taylor was a 10-time all-pro linebacker for the New York Giants from 1981 to 1993 after earning All American honors at the University of North Carolina.
Nutrisystem, the weight loss company, announced Friday that it is cutting ties with Taylor, who had been one of its spokesmen.
"Since 1972, Nutrisystem has been a respected leader in health and wellness and we are deeply protective of the reputation of our brand," a company statement said. "We are shocked and saddened by these very serious allegations against Lawrence Taylor. Based on the severity of these allegations, Nutrisystem has made the decision to sever our relationship with Mr. Taylor effective immediately."
A punishing tackler and pass rusher known by his initials, "L.T.," Taylor was on two Super Bowl champion teams and was inducted into the NFL Hall of Fame, which noted that he "redefined the way the outside linebacker position was played."
He was twice suspended by the NFL for substance abuse and battled a cocaine addiction long after retirement, resulting in several arrests and a downward spiral that he chronicled in a 2003 autobiography.
After kicking drugs, he worked as a sports commentator and appeared as a contestant on ABC's "Dancing With the Stars" in 2009. Taylor and his dance partner on the program, Edyta Sliwinska, were eliminated in the seventh week of competition.
CNN's Ross Levitt and Alan Chernoff contributed to this report.