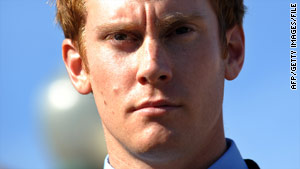 Navy SEAL Matthew McCabe is accused of assaulting detainee Ahmed Hashim Abed in Iraq.
STORY HIGHLIGHTS
Navy Petty Officer Kevin DeMartino testifies about witnessing assault
Prosecution rests; defendant Matthew McCabe not expected to testify
DeMartino says he initially covered it up, but his conscience bothered him
Two others have been acquitted of charges related to beating
Norfolk, Virginia (CNN) -- A Navy officer took the witness stand Wednesday in the court-martial of a Navy SEAL accused of abusing a detainee in Iraq.
Considered the prosecution's star witness, Navy Petty Officer Kevin DeMartino said he saw Petty Officer 2nd Class Matthew McCabe punch the prisoner, who then fell to the ground.
McCabe has pleaded not guilty to assault, dereliction of duty and lying to investigators. He is not expected to testify at the trial.
The prosecution rested its case after DeMartino's testimony. DeMartino said he was in charge of maintaining custody of the prisoner. He had stepped outside, and when he came back, he saw McCabe punch prisoner Ahmed Hashim Abed in the stomach, he told the court.
Initially, DeMartino said, he lied to investigators who asked why the detainee had blood on his clothing.
It was his conscience that led him to confess to what he saw, he testified.
"It was either be in the good graces of the SEALs or being in the good graces of God," he said.
Under cross-examination, the defense asked whether he was nervous that testimony in two previous related courts-martial was deemed not credible because of inconsistencies.
McCabe, wearing his Navy dress whites, was attentive but did not make eye contact with the witness.
Other witnesses who testified Wednesday included the person who received the detainees, who said there was nothing remarkable about Abed's injuries.
A medic also took the stand, testifying that he photographed the detainee and at that point noticed a laceration on the top of the prisoner's lip.
More government witnesses were expected in court Wednesday.
In opening statements, prosecutors told the jury that McCabe failed to live up to Navy standards "when he struck a detainee in the abdomen" and walked away while the prisoner lay on the floor bleeding.
But McCabe's civilian defense attorney, Neal Puckett, a retired Marine lieutenant colonel, said in his opening statement that McCabe is not guilty.
McCabe is the last of three SEALs to be tried for the alleged abuse of Abed, who was arrested in Iraq and charged with masterminding the 2004 slayings of four U.S. contractors in Falluja. The killings were widely covered when the burned bodies of two of the contractors were paraded through Falluja's streets and hanged from a bridge as their captors cheered.
In a recording from his three-hour deposition, Abed denied any involvement with al Qaeda or other terrorist groups and said that U.S. and Iraqi forces raided his home and took him to a U.S. base, where he was attacked for five minutes.
The two other SEALs in the case were acquitted last month in Iraq on charges of dereliction of duty and impeding an investigation. McCabe is the only one charged with actually abusing the detainee.
CNN's Adam Levine contributed to this report.