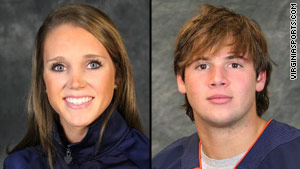 George Huguely, right, was charged with murder in the death of Yeardley Love.
STORY HIGHLIGHTS
NEW: University of Virginia lacrosse player tells police he had violent fight with ex
Yeardley Love, also a lacrosse player, found dead Monday in her apartment
George Huguely said he shook her, hit her head against the wall
Huguely is charged with murder; his lawyer says it was an accident
(CNN) -- A University of Virginia lacrosse player charged with killing a member of the women's lacrosse team told investigators he had a violent fight with her, according to a search warrant affidavit released Tuesday.
George Huguely, 22, was arrested hours after a roommate found Yeardly Love's body Monday morning in her off-campus apartment in Charlottesville, Virginia.
A relationship between Love, also 22, and Huguely had just ended, Charlottesville Police Det. Lisa Reeves wrote in a sworn statement used to obtain a search warrant.
"George Huguely admitted on May 3, 2010 that he was involved in an altercation with Yeardly Love and that during the course of the altercation he shook Love and her head repeatedly hit the wall," Reeves wrote.
Love had "a large bruise on the right side of her face which appears to have been caused by blunt force trauma," according to the document. She was found face-down in a pool of blood.
Love and Huguely played on their school's highly ranked lacrosse teams, which are preparing for the NCAA championship tournaments later this month.
Huguely made his first appearance before a judge on a first-degree murder charge via video from county jail Tuesday morning. His lawyer did not request bond.

Video: UVA player charged with murder

Video: UVA suspect had violent history
"We are confident that Ms. Love's death was not intended, but an accident with a tragic outcome," defense attorney Francis Lawrence said after the hearing.
Huguely admitted to kicking open the door to Love's bedroom after he found her apartment door unlocked, according to the detective's affidavit.
Huguely, who waived his Miranda rights to not talk to police, also admitted he took her computer from her apartment, Reeves wrote. It was later found by police after he told them where he disposed of it, she said.
Police were initially called by Love's roommate, who reported "a possible alcohol overdose," Police Chief Tim Longo said.
"It was quickly apparent to them this young lady was the victim of something far worse," Longo said.
Investigators "fairly quickly" focused on Huguely, of Chevy Chase, Maryland, as a suspect, he said.
Love "suffered visible physical trauma. However, the specific cause of death is undetermined pending an autopsy," Longo said.
"That she appears now to have been murdered by another student compounds this sense of loss by suggesting that Yeardley died without comfort or consolation from those closest to her," University President John Casteen said. "We know no explanation of what appears now to have happened."
Huguely's family issued a statement Tuesday morning through his lawyer. "Grief has descended on this community as we attempt to understand what happened and why," the statement said. "Our thoughts and prayers are with those who grieve this terrible loss."
The University of Virginia's men's lacrosse squad is the top-ranked team in the nation. The women's team is ranked fourth. The championship tournaments start May 14.
CNN's Mallory Simon contributed to this report.