Judge allows bail for militia suspects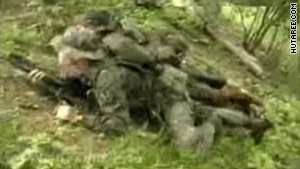 Officials say Hutaree militia members talked about reclaiming America.
STORY HIGHLIGHTS
NEW: Government files motion to stay judge's order
Nine accused of seditious conspiracy, attempting to use weapons of mass destruction
Hutaree members will be confined to homes, must surrender weapons
Government says members discussed "operation" to happen in April
(CNN) -- Nine people who federal prosecutors say belong to a "Christian warrior" militia can be released on bail until the criminal charges against them are resolved, a judge has ruled.
A federal grand jury has indicted the nine on charges of seditious conspiracy, attempted use of weapons of mass destruction, teaching the use of explosive materials and possessing a firearm during a crime of violence.
The government appealed the decision Monday afternoon and filed a motion to stay the order.
U.S. District Judge Victoria Roberts in Detroit, Michigan, ruled that the nine, members of a group called Hutaree, can be released but will be confined to their homes and will be electronically monitored. Some of the nine are prohibited from using the internet.
The defendants will also be required to surrender all weapons and gun permits they hold, court documents show.
They will be expected to either seek or maintain employment while they await their trial, and they are restricted from consuming alcohol and drugs. They must also surrender their passports.
The government failed to convince the court that the nine presented a danger to the community or were flight risks, the court order states.
The judge considered the seriousness of the alleged offenses and the evidence that the government held in making her decision.
Some of the evidence that the government has against the Hutaree members includes a video of a U.N. flag being burned as a Hutaree flag is raised and a speech given by one of the members about reclaiming America.
The government also presented transcripts of conversations among Hutaree members referring to a real "operation" that was to happen in April.
The court found the evidence not specific enough to warrant the detentions of the nine until their trial.
In its appeal, the government argued that the militia members were recorded speaking expressly about killing a police officer and then bombing a police officer's funeral as a way to kill several law enforcement officers.