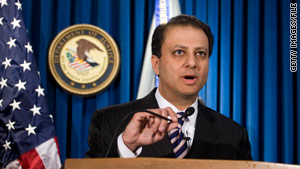 U.S. Attorney Preet Bharara announced the indictments of two men on terrorism charges Friday.
STORY HIGHLIGHTS
NEW: Men appear in court in Virginia
Two U.S. citizens accused of conspiring to "modernize al Qaeda"
Indictment says one man pledged allegiance to al Qaeda in Yemen
Other man accused of performing "assignments" for terrorist group
(CNN) -- Two New York men accused of providing material support to al Qaeda overseas appeared in federal court for the first time Friday afternoon.
Wesam El-Hanafi and Sabirhan Hasanoff, both U.S. citizens, were indicted for allegedly conspiring to provide computer advice and assistance, services and currency to al Qaeda, said Preet Bharara, a U.S. attorney in New York, in a news release.
In a brief hearing in Alexandria, Virginia, before U.S. Magistrate Judge T. Rawles Jones Jr. on Friday, both men signed papers saying they were the people named in a federal indictment, but they did not enter a plea, and no details about their arrests were discussed in open court.
U.S. marshals will transport the men to the Southern District of New York, where they are expected to appear in a federal court in Manhattan at an unspecified date, Bharara said.
A federal law enforcement source said El-Hanafi and Hasanoff were arrested overseas in a country that "did not want to be identified as being helpful in any way to the U.S." The source would not disclose the country.
The source said the men were taken to federal court in Virginia for their first appearance because it was the easiest location to fly them into the United States.
The federal indictment unsealed Friday says the men were "engaged in planning and perpetrating a federal crime of terrorism against the United States, citizens and residents of the United States, and their property" but does not detail any specific plans for terrorist action.
"The indictment does not contain allegations about an active plot against the United States. The investigation continues," Department of Justice spokesman Dean Boyd said.
In the indictment, prosecutors allege that in February 2008, El-Hanafi met with two members of al Qaeda in Yemen, where he received assignments and instructions on operational security measures after swearing an oath of allegiance to al Qaeda.
The indictment alleges that Hasanoff "performed assignments for al Qaeda" in New York in August 2008. It provides no details.
It also says he received $50,000 in November 2007 from an unnamed co-conspirator who in June 2008 pledged allegiance to al Qaeda. That month, according to the indictment, El-Hanafi directed the co-conspirator to "perform tasks" for al Qaeda, and Hasanoff instructed him "not to fill his United States passport with stamps to retain the passport's value to al Qaeda."
New York Police Department Commissioner Ray Kelly said Friday that the NYPD Terror Task Force assisted federal agencies with the investigation. He said the suspects are accused of "material support" for al Qaeda, including sending watches to terrorists abroad from New York, but declined to provide further details.
The indictment says El-Hanafi purchased seven Casio digital watches online and had them delivered to his Brooklyn home in April 2009 but does not specify who the watches were for or why he ordered them.
"As alleged in the indictment, Wesam El-Hanafi and Sabirhan Hasanoff conspired to modernize al Qaeda by providing computer systems, expertise and other goods and services," Bharara said.
El-Hanafi, 33, is a U.S. citizen who was born and lived in the Brooklyn borough of New York. Hasanoff, 34, is a dual citizen of the United States and Australia who also resided in Brooklyn, according to the indictment.
El-Hanafi and Hasanoff are each charged with one count of conspiracy to provide material support to a foreign terrorist organization, which would carry a maximum sentence of 15 years in prison upon conviction.