Report: Trainer killed by whale momentarily freed herself in struggle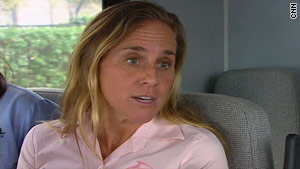 A sheriff's report says that animal trainer Dawn Brancheau's hair floated on the water into the whale's mouth.
STORY HIGHLIGHTS
Whale pulled Dawn Brancheau underwater in February at SeaWorld of Orlando
Brancheau briefly freed herself, but 12,000-pound animal struck her, thwarting her efforts
An autopsy has said that Brancheau died of drowning, traumatic injuries
Orlando, Florida (CNN) -- The SeaWorld trainer killed by a whale in February fought to free herself from the animal after he caught her hair, a sheriff's report said.
Dawn Brancheau, 40, was working with a whale named Tilikum on February 24 when the animal pulled her underwater in front of shocked onlookers at SeaWorld of Orlando's Shamu Stadium.
The Orange County Sheriff's Office said Wednesday that Brancheau and Tilikum interacted "nose-to-nose" when her hair floated on the water into the animal's mouth.
She briefly freed herself and tried to swim to the surface, but her efforts were thwarted when the 12,000-pound animal struck her.
An autopsy report confirms that Brancheau died of drowning and traumatic injuries.
Tilikum has been linked to two other deaths. In 1991, he and two other whales were involved in the drowning of a trainer at a Victoria, British Columbia, marine park. In 1999, Tilikum was blamed for the death of a 27-year-old man whose body was found floating in a tank at SeaWorld.