Remains ID'd as woman who left club with sex offender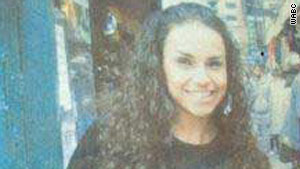 Laura Garza vanished during the early morning of December 3, 2008.
STORY HIGHLIGHTS
DNA, other tests confirm remains are Laura Garza
Woman left Manhattan nightclub with registered sex offender in 2008
Skeletal remains found near Scranton, Pennsylvania
Watch found with remains was Garza's, police say
New York (CNN) -- Remains found in Pennsylvania have been identified as those of a woman who disappeared in New York in 2008 after leaving a Manhattan nightclub in the company of a convicted sex offender, authorities said Monday.
Forensic testing determined the remains recovered April 11 from Mount Cobb, near Scranton, Pennsylvania, are those of Laura Garza, said police and prosecutors from New York and Pennsylvania.
"We have not determined a cause of death but, to be perfectly honest, that is something we would not have this quickly," said Capt. Wayne Olson of the Bureau of Criminal Investigation for the New York State Police.
A family spokeswoman said Garza's relatives were gathering in Texas. "They weren't completely shocked because they had an idea that is what happened," said Awilda Cordero.
A watch found with the skeletal remains first led investigators to suspect they were Garza's, police said. DNA samples were collected and tests confirmed that the bones were hers.
Garza was 25 when she vanished in the early hours of December 3, 2008.
"She had a dream to become a professional dancer here in New York City, but she was also a hard-working lady," said Cordero. "She had just become an assistant manager in a shoe store."
She was last seen leaving the Marquee Club, a popular nightspot in the Chelsea section of Manhattan, with Michael Mele, police said.
Mele, a registered Level 1 sex offender, has been questioned several times about Garza, police said. He has never been charged in connection with her disappearance.
He is now serving time in prison for violating terms of his probation, according to court records.
"We still consider him a suspect in her death and disappearance," Olson said. "We are looking to see if he has any connection to the area where the remains were found."
Authorities said the remains were found "in a remote location" and had been there for "a protracted period of time."
"We are certainly not overjoyed in finding her remains, but we have some renewed hope and direction to try and bring the person responsible to justice," Olson said.