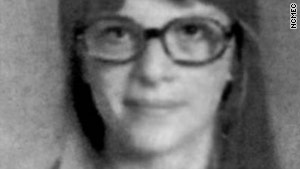 Her sister describes Eva Debruhl, who vanished at age 15, as sweet and innocent.
STORY HIGHLIGHTS
Eva Debruhl, 15, was last seen June 29, 1977
She was cutting grass with push mower in front of her South Carolina home
Her parents sold house to pay private investigator, but there are few clues
Know something? Call 1-803-628-3059 or 1-800-THE-LOST
New York (CNN) -- Eva Debruhl, 15, was last seen nearly 33 years ago, cutting the front lawn of her family's home in Rock Hill, South Carolina, with a push mower.
"Eva loved to cut grass, as we both did,'' said her older sister, Tami Settlemyer, 49. "There was just something about cutting grass that we both enjoyed.''
But Debruhl wasn't at the door to greet her sister when she came home from her summer job at the local textile mill late in the afternoon of June 29, 1977. She had missed lunch with her grandmother, who lived in another house on the family's 9-acre spread. And Debruhl's best friend's family had not seen her, either.
Fear and panic quickly set in as the family realized that Debruhl was nowhere to be found.
Her sister describes Debruhl as "precious." She loved children and singing in the church choir, and she could recite from the Bible. "She was so sweet and innocent,'' her sister said.
Police searched the property, and Debruhl's family, friends and neighbors joined forces to look for her.
"Soon, days turned into weeks, weeks turned into months, and months turned into years, but we never stopped looking,'' Settlemyer said.
Debruhl's father quit his job, devoting himself to the search. Her parents sold their house that fall to pay for a private investigator.
"Eva was the baby of our family, and we treated her like that," Settlemyer said. "My parents were just heartbroken.''
Eva was the baby of our family, and we treated her like that. My parents were just heartbroken.
--Tami Settlemyer, sister
It was the family's second tragedy. Four years earlier, a drunken driver killed Debruhl's 11-year-old brother in front of the house as he and a friend walked to a church playground to play basketball.
To this day, police have had few clues to follow in Debruhl's disappearance.
There were no signs of forced entry, and police told the family that whoever may have taken Debruhl knew their home and their schedule.
Debruhl's grandmother said she recalled seeing a blue or green truck with a white top drive up to the property on the day the teen vanished.
A man got out and knocked on the door to Debruhl's house. She said she didn't get a good look at him because he had his back to her, according to the police report.
The vehicle drove off and returned about 10 minutes later, and the grandmother could not see who was in it. She didn't pay a lot of attention because Debruhl's father repaired autos, and strangers would often visit to have work done.
The truck and the man were never located.
Another potential clue was a Coke bottle Debruhl's father found in the yard, where the truck had pulled over.
The bottle was made in Georgia, indicating that whoever dropped it may have been from out of state. A Coca-Cola bottling plant in Rock Hill served South and North Carolina, Settlemyer said.
Yet the bottle was not dusted for fingerprints.
This one is a little more frustrating.
--Capt. Jerry Hoffman, investigator
Over the years, Debruhl's family was approached by people who demanded money for information on the teen's whereabouts. In a sting operation, Debruhl's mother met one man who wanted $15,000. Police arrested him. He was convicted of extortion, Settlemyer said.
More than once, Debruhl's parents were called to the medical examiner's office in Chapel Hill, North Carolina, to view unidentified remains, but they weren't Debruhl's.
At one point in the investigation, it was believed that Henry Lee Lucas, a drifter who claimed to have killed hundreds of people in dozens of states, may have been in the area about the time Debruhl disappeared.
A sheriff's representative and Debruhl's father went to Texas in the 1980s when Lucas was arrested there. Lucas said he could not recall whether he killed anyone in the area or even whether he had been there, Settlemyer said.
Years ago, one sheriff's investigator was so involved in the case that he worked it on his days off, searching, digging and looking for hard-to-find clues.
The current lead investigator, Capt. Jerry Hoffman of the York County Sheriff's Office, has an Eva Debruhl case file the size of a banker's box.
Following up on a tip, police recently dug up a well and the property once owned by Debruhl's family. In other searches, cadaver dogs found nothing. A forensic psychologist was brought in to use hypnotism on one person who was interviewed.
"This one is a little more frustrating,'' Hoffman said.
Settlemyer says she knows that someone out there knows exactly what happened to Debruhl, who was 5'1'' and 105 pounds when she vanished. She was blonde, had blue eyes and wore glasses. She was last seen in blue shorts and yellow blouse.
Settlemyer believes that her sister is dead but still speaks of hope when asked about the case.
"All we want and all we have ever wanted is closure. We have already forgiven that person,'' she said. "We know that person will have another judge that will give them the punishment they need.''
Anyone with more information is asked to call the York County Sheriff's Office at 1-803-628-3059 or the National Center for Missing & Exploited Children at 1-800-THE-LOST.