11 alleged pirates arrive in U.S. for prosecution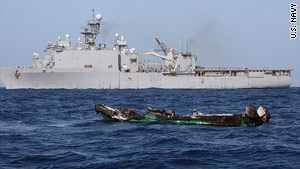 The burned hull of a suspected pirate skiff drifts near the USS Ashland after an attack on the Ashland on April 10.
STORY HIGHLIGHTS
Suspects flown from East Africa to Norfolk, Virginia, to face prosecution, sources say
Among the charges: Piracy under the law of nations, attack to plunder a vessel
Five captured after March attack on USS Nicholas; 6 captured after April USS Ashland attack
U.S., European Union have beefed up security near Somalia after recent pirate attacks
WASHINGTON (CNN) -- Eleven suspected pirates have arrived in the United States to face criminal prosecution for alleged attacks on U.S. Navy ships near Somalia, a federal government source said Friday.
U.S. authorities flew the suspects from East Africa to Norfolk, Virginia, to face prosecution in federal court, according to multiple federal law enforcement sources familiar with the operation.
The accused pirates have been indicted on a series of charges, and the suspects were expected to appear before a federal magistrate in Norfolk on Friday, the officials told CNN.
Five of the accused pirates were captured after the USS Nicholas was attacked by a pirate ship on March 31.
Six others were captured in a separate incident April 10 after a pirate ship fired on the USS Ashland.
The 11 have been charged with piracy under the law of nations, attack to plunder a vessel, assault with a dangerous weapon in the special maritime jurisdiction, conspiracy to use firearms during a crime of violence, and use of a firearm during a crime of violence, according to court filings.
The five involved with the Nicholas incident were identified as Mohammed Modin Hasan, Gabul Abdullahi Ali, Abdi Wali Dire, Abdi Mohammed Gurewardher, and Abdi Mohammed Umar.
Read indictment in USS Nicholas case
The six involved with the Ashland were identified as Maxamad Cali Saciid, also know as Mohammed Said, Mohammed Abdi Jama, Jaamac Ciidle, Abdicasiis Cabaase, Abdirasaq Abshir, and Mahamed Farraah Hassan.
Read indictment in USS Ashland case
"The U.S. Marshals Service will be taking custody of the defendants following their initial appearance in U.S. District Court in Norfolk, and they will be housed locally through the court proceedings," the Marshals Service said in a written statement. The service refused any other comment on the operation to bring the pirates to U.S. soil.
The FBI and Justice Department had no comment.
The cases will be prosecuted in Norfolk, which is in the Eastern District of Virginia. Some officials from Alexandria, where the district court is based, were already in Norfolk standing by for the pirates' arrival, officials said.
The United States, the European Union and others have beefed up their security presence in waters near Somalia after a rash of attacks by pirates in the past two years.
CNN's Jeanne Meserve contributed to this report.