Police search for killer of D.C. principal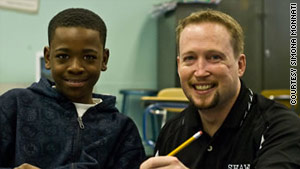 Brian Betts, 42, was trying to turn around a struggling Washington middle school.
STORY HIGHLIGHTS
Investigators find abandoned SUV of slain educator Brian Betts
Evidence suggests the victim knew his killer, police say
Betts, 42, was considered up-and-coming star of school system
"I wouldn't think that anybody from school would try to hurt him," student says
Washington (CNN) -- Police may have found valuable clues in the killing of a popular District of Columbia middle school principal as the search for suspects continued Tuesday.
Detectives found the abandoned sport utility vehicle of slain educator Brian Betts. And over the weekend police learned that two people abandoned the dark blue Nissan Xterra a day after Betts was found dead.
Police are searching for the two people but say they have sketchy descriptions of them.
Betts, 42, was found shot to death in his Maryland home on April 15. The shooting sent shock waves through Shaw Middle School.
Follow the case on the AC360 blog
"I couldn't believe it and when I saw the news. I started crying," said Anna Rojas, a ninth-grader at the school.
Betts was seen as a rising star in the D.C. school system and in the past had won an "Outstanding Teacher" award. He had been hand-picked by District of Columbia Public Schools Chancellor Michelle Rhee to lead the struggling school.

Video: Students mourn murdered principal
"He was an inspirational leader for the teachers and the students, and that leadership was bringing results," Rhee said in a statement.
"He knew what the children under his care were capable of, and he was determined to show them how to get there. Brian Betts' death is an incredible loss of a young and dedicated school leader."
Police said they have developed a timeline of Betts' movements in the days before his death. They also say clues at his home could point to the killer being a person that Betts knew.
"This is not a random event. There were no signs of forced entry to the home," said Capt. Paul Starks of the Montgomery County police.
Monday, students returned to Betts' middle school for the first time since his death. There were tears and many who missed the principal, known for greeting students with hugs.
"Everybody liked him. I wouldn't think that anybody from school would try to hurt him. He was such a nice person," said Anthony Smith, a seventh-grader.
On the 12--year-old's arm was written: "R.I.P. Mr. Betts."
CNN's Randi Kaye and Gabriel Falcon contributed to this report.