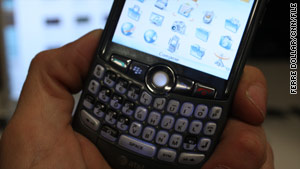 The Supreme Court will hear a case involving personal messaging on employer-issued devices.
STORY HIGHLIGHTS
Police Sgt. Jeff Quon sent hundreds of text messages on his city-issued pager
Review by department found most were personal, many sexually explicit, court says
Quon says "informal" policy let officers send personal texts if they paid charges
He had signed off on city policy saying no expectation of privacy on city-issued pagers
Washington (CNN) -- The U.S. Supreme Court is scheduled Monday to hear the case of an Ontario, California, police officer who used his city-issued text-messaging pager to exchange hundreds of personal messages -- some sexually explicit. The case carries ramifications for employee privacy rights in the workplace.
At issue is how far a government employer may go to monitor the private communications of its workers when it believes the right to use such equipment is being abused.
The lawyers for Police Sgt. Jeff Quon argue that he had a "reasonable expectation" of privacy on his official wireless two-way text-messaging pager.
The court will also explore whether service providers can be held liable for providing those communications without the consent of the sender.
Courts have said that private communications -- even when delivered or transmitted through a public portal -- are generally protected from "unreasonable search and seizure." An example is handwritten letters sent in sealed envelopes through the U.S. Postal Service.
The police department has a "Computer Usage, Internet and E-mail Policy" that gives workers only limited use for personal communication.
Quon signed a statement acknowledging that "use of these tools for personal benefit is a significant violation of City of Ontario Policy" and that "users should have no expectation of privacy or confidentiality when using these resources."
Quon, a SWAT team sergeant, claimed that he was unaware the city's overall policy applied to the department and said there was an "informal policy [that] allowed officers to maintain their privacy in their text messages as long as they paid the overage charges."
The city's contract with Arch Wireless, now known as USA Mobility, allowed for a 25,000-character limit per month, per device, before overage charges kicked in.
Quon acknowledged that he exceeded the limit several times and paid the extra charges out of his personal funds, as required by his bosses.
Both sides agree that Quon's supervisor grew "tired of being a bill collector" for his text-happy officers, and the chief of police ordered a review of the pager transcripts for the two officers with the highest overage, one of whom was Quon.
Officials claimed in court that the review was done only "to determine whether the city's monthly character limit was insufficient to cover business-related messages."
But the transcripts voluntarily provided by Arch Wireless from its electronic archives revealed Quon's often-racy messages to his wife, his girlfriend and a fellow officer, prompting an internal department investigation.
A review of one month found that Quon had sent and received 456 personal messages while on duty, an average of 28 per shift, and only three were deemed work-related. A federal court judge characterized many of the messages as not "light personal communications," defined in the policy as generally acceptable, but words that were, "to say the least, sexually explicit in nature."
Quon sued the wireless company and the city for invasion of privacy.
That suit and any possible disciplinary action against the officer have been put on hold pending resolution of the larger legal questions.
A federal appeals court had ruled for Quon.
Because "the [police] department opted to review the contents of all the messages, work-related and personal, without the consent of Quon, we held that the search was excessively intrusive in light of the noninvestigatory object of the search," wrote the three-judge panel.
This case deals within the context only of government employees, and legal and technology experts are divided over its application in the private sector, where employees may enjoy less constitutional protection.
The city of Ontario is in San Bernardino County, about 37 miles east of Los Angeles.