STORY HIGHLIGHTS
Lisa Alexander is an IRS revenue officer in Austin, Texas

She was one of nearly 200 employees in IRS offices when a plane struck the building

Authorities say Joe Stack, angry at the government, flew his plane into the multistory building

Austin, Texas (CNN) -- Lisa Alexander woke up early on February 18, the same way she does every morning.
"My alarm usually goes off at 4:30, 4:45," she said. "I lay in the bed and kind of plan out my day."
She had no idea that her life was about to be targeted by a man with a vendetta against the government.
She got up, woke up her son and headed to work at the IRS offices in Austin.
"The first thing I do is get in, organize my desk and wipe it down ... fire up my computer and tell everybody good morning," Alexander said. "Before I know it, the building kind of went to the left and came back ...
"I thought it was an earthquake."
Damage is still clearly visible in this photo, taken nearly six weeks after the attack.
It wasn't. Just a few minutes before 10 a.m., a single-engine Piper Cherokee PA-28 crashed into the multistory building where Alexander worked.
"It was like an explosion," she said. "The windows started breaking out and the tiles started falling from the ceiling, and then it was dark."
Alexander said she went to check on her co-workers, and they headed for the nearest door.
"As we open the door, this 'poof' sound comes in as if it were a flame or something behind it," she said. "So we immediately shut the door and we smelled that smell, it was probably jet fuel."
They closed the door and stood there, trying to figure out how to escape.
"The first thing that crossed my mind is I'm not going to see my son anymore," Alexander said.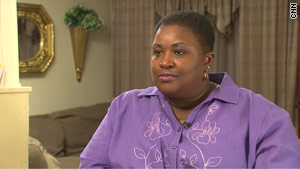 IRS worker Lisa Alexander said she thought she was in an earthquake.
A few blocks away, Robin DeHaven was driving his truck on his way to install windows when he spotted something strange in the sky.
"I looked on the horizon and I just saw a little dot and ... I'm staring at it like, 'What is this? It doesn't look like a bird or anything.' " DeHaven said. "And I realized it was a plane."
Realizing there was no airport around for miles, he figured the pilot must be having problems.
"When I saw it disappear, within seconds I saw a big plume of black smoke," he said. "I exited the highway, and I saw that all this smoke was coming from this building. All I saw was all the shattered glass and all the smoke coming out, and I thought, 'Oh jeez, he hit a building.' "
Authorities say they believe the pilot, Joe Stack, had ripped seats out of the small plane and put in a drum of fuel to cause maximum damage. Stack allegedly set fire to his $230,000 home in Austin before embarking on his fatal flight.
Read Stack's apparent suicide note (PDF)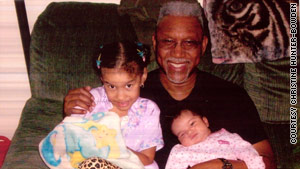 Longtime IRS worker Vernon Hunter, pictured here with his grandchildren in 2009, died in the attack.
Investigators believe Stack targeted the building because it housed IRS offices. A 3,000-word message on a Web site registered to Stack railed against the government, particularly the IRS.
Alexander didn't have time to think about what had happened, or why someone had crashed a plane into her office building.
"We were all screaming for help," she said. "By that time, the smoke was getting real bad. I kind of crouched down on the floor trying to get some air from under there.
"And [I was thinking] I'm going to have to jump because it's getting worse in here."
The next thing she knew, she saw what she thought was "an angel from heaven."
Alexander and the others survived. But the attack killed one of their co-workers, longtime IRS employee Vernon Hunter. He was 68.
Alexander said she had a lot of memories of Hunter, whom she worked with before her job at the IRS.
"He'd do anything for you," she said.
She questioned why he, of all people, had to die. But she said the tragedy actually made her faith in God stronger.
"I've been raised all my life to go to church and believe in God, and it's like, you know, maybe it's time for me to start believing," Alexander said. "And that's when it came to light that this was my test.
"I've really lived a good life. I've never come so close to death. I've had family members die, and it was a little different. But when it faces you, it's a different feeling."
CNN's Brian Rokus and Tricia Escobedo contributed to this report.