Ex-NSA worker accused in leaks to reporter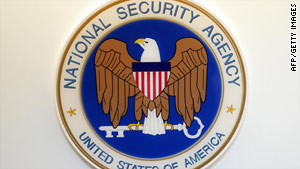 A federal judge recently declared that the electronic intelligence programs were conducted illegally.
STORY HIGHLIGHTS
Thomas Drake accused of leaking info about electronic surveillance programs
He was source of series of newspaper articles in 2006-07, indictment claims
Drake resigned in 2008; his lawyer was not available for comment
Washington (CNN) -- A former employee of the secretive National Security Agency has been indicted in connection with the leak to a reporter of classified information about the agency's electronic intelligence programs, the Justice Department announced Thursday.
Thomas Drake has been charged with illegally retaining classified information, obstruction of justice and making false statements to federal agents investigating the leak, the Justice Department announced. According to the indictment, Drake was a source for a series of articles about the NSA that were published in 2006 and 2007 by a newspaper that is not named in the charges.
The first of the articles for which Drake is accused of providing classified information ran two months after The New York Times disclosed the existence of the NSA's warrantless domestic surveillance program. The disclosure and the stories that followed in other news outlets stirred up a firestorm of criticism of the program, which a federal judge recently declared was conducted illegally.
Drake was a senior NSA employee who held a top-secret security clearance at the time, according to the charges against him. His security clearance was suspended in 2007, and he resigned from the agency in 2008. Efforts to contact his attorney were unsuccessful Thursday.
Drake's attorney, James Wyda, said his client has been "extraordinarily cooperative" with investigators.
"He loves his country and has served it well for many years. We are deeply disappointed that we could not resolve this matter short of criminal charges being brought," Wyda said in a statement issued to reporters. "But this is a process, and we look forward now to resolving these matters in a public courtroom."
Missouri Sen. Kit Bond, the ranking Republican on the Senate Intelligence Committee, applauded the charges and called for more such cases to be pursued.
"The damage to our national security caused by leaks won't stop until we see a couple of perpetrators in orange jumpsuits," Bond said in a statement from his office.
Drake was introduced to the reporter who wrote those articles by a former congressional aide, the indictment states. Neither the reporter nor the aide was named in the indictment.
Drake exchanged hundreds of e-mails with the reporter using a secure mail service, passed along information he received from "unwitting" NSA employees and used his access to classified computer networks to obtain information for the reporter, the indictment states.
Prosecutors say Drake shredded some documents and deleted others from his e-mail after learning that the leak was being investigated by federal agents.
Congressional hearings into the surveillance program led to revelations about a high-level disputes between the Justice Department and the White House over its legality. The White House at one point tried to persuade ailing Attorney General John Ashcroft to overrule his top deputy, who as acting attorney general had refused to certify the program was legal.
Ashcroft, who was recovering from gallbladder surgery at the time, refused during a dramatic standoff among top Bush administration officials in his hospital room.