Four dead in shooting at Chicago house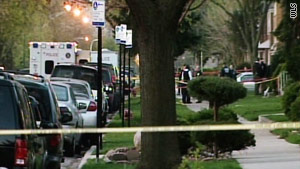 A Wednesday shooting in Chicago's Marquette Park area appears to be the result of a domestic dispute, police say.
STORY HIGHLIGHTS
NEW: Police official describes shooting scene as "horrendous" and "incomprehensible"

Police say suspect taken into custody in Chicago shooting

Four dead, two people hospitalized, police say

Police don't know relationship between the suspect and victims

Chicago, Illinois (CNN) -- A "horrendous" early-morning shooting in Chicago's Marquette Park neighborhood left four people dead Wednesday in what police believe was a domestic dispute.
Two people are in the hospital in critical condition, and a suspect was taken into custody, according to John Kupczyk, Eight District police commander.
Kupczyk told reporters gathered at the shooting scene that police received a 911 emergency call around 4:30 a.m. CT (5:30 a.m. ET). When responders arrived, they found four victims dead in the house on South Mozart Street.
Local coverage by CNN affiliate WGN
Two injured victims were taken to Advocate Christ Hospital, where they remain in critical condition.
Two additional witnesses were at the scene, and Kupczyk said the witnesses helped identify a suspect, who has been taken into custody for questioning.
Police also have recovered a weapon, Kupczyk said, but are still trying to determine whether it was used in the shootings.
Authorities haven't determined the relationship of all the victims, but Kupczyk described them as "family members." He told reporters that police don't know the relationship between the suspect and victims.
CNN affiliate WGN-TV in Chicago reported that police are reviewing security camera footage from city buses that the suspect may have taken following the shootings.
Police did not describe how the suspect was apprehended.
Kupcyzk described the scene as "horrendous" and "incomprehensible."
He told reporters the investigation was affecting his men, since "we officers have families, too."
FOLLOW THIS TOPIC