Source: Terror plot targeted Times Square, Grand Central stations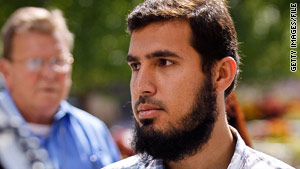 Najibullah Zazi wanted to bomb two of the busiest subway stations in Manhattan, a source says.
STORY HIGHLIGHTS
Najibullah Zazi, 2 co-defendants allegedly plotted to wear homemade bombs
They wanted to be in the middle of busy subway cars, source says
Source says Zazi was considering September 14, 15 or 16 for the attack
New York (CNN) -- The three men accused of plotting to bomb the New York City subway last year planned to attack trains at Times Square and Grand Central stations, a federal law enforcement source said Monday.
Najibullah Zazi and his two co-defendants wanted to inflict maximum casualties around the anniversary of the September 11 terrorist attacks, the source said.
The trio, wearing homemade bombs, plotted to position themselves in the middle of busy subway cars in order to kill the most people, probably targeting the 1, 2, 3, or 6 line trains, the source said.
Since his arrest, Zazi has given authorities information about the plot. The law enforcement source said Zazi would probably have chosen September 14 for the attack, but was also considering the September 15 or 16.

Video: Subway terror plot details emerge
Zazi's co-defendants, Adis Medunjanin and Zarein Ahmedzay, are indicted in the plot and have pleaded not guilty.
All three men went to the same high school in Flushing, Queens, New York.
The plot was foiled when the FBI began following Zazi and police stopped him on a bridge into New York. Zazi said that prompted him to dump his bomb materials and return to Denver, Colorado, where he was working as a shuttle driver, authorities said.
Prosecutors have said they plan one or two more arrests overseas.
Zazi is scheduled for sentencing in June.