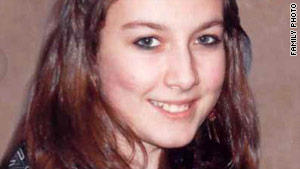 Freshman Phoebe Prince took her own life following weeks of taunting by schoolmates, authorities say.
STORY HIGHLIGHTS
NEW: Court document reveals extent of bullying, teen's despair over taunts
Three girls, all 16, plead not guilty to civil rights violations in bully suicide case
Three others, charged as adults, already have entered not guilty pleas
Phoebe Prince's body found hanging in stairway of her family's apartment in January
(CNN) -- During the last afternoon of her life, 15-year-old freshman Phoebe Prince was loudly berated in the high school library and she was taunted again as school let out, court documents say.
And, as she walked home in tears, one of the students passing by in a car called Prince names and tossed an empty can at her, according to the 38-page court filing that offers the first detailed account of a high school bullying scandal that has gained the national spotlight.
Prince used her cell phone to send text messages to a friend, saying that she was distraught over the relentless hazing. Her last text message went out at 2:48 p.m. She also received two messages but never opened them, the document states.
By 4:55 p.m., she was dead.
Prince hanged herself in the stairwell of her family's apartment in South Hadley, Massachusetts, on January 14, following weeks of taunting by classmates, authorities say. The day before she died, she told a friend: "School has been close to intolerable lately," the court document shows.
Prince's apparent offense, according to the court records: She had gone out with boys who also dated two of her alleged tormentors.

Video: Teens plead not guilty in bully case

Video: Lawyer on school bullying charges
They called her cruel names, including "whore" and "Irish slut," according to documents filed supporting charges against three 16-year-old girls, who were arraigned and entered not guilty pleas on Thursday.
The alleged confrontations took place at South Hadley High School -- in gym and Latin classes, in the school library, in the cafeteria, in the girls' bathroom, in the hallway and on the streets outside the school. They made her anxious and tearful, classmates and friends told investigators.
Witnesses told police one of the girls "called her out," threatening to beat Prince up, the document states.
A witness is quoted in the document as telling investigators:
"She definitely didn't want to fight with the girls in the school. She just wanted to keep to herself and keep things the way they were. She wanted people to stop picking on her, to stop being bullied. She wanted people to leave her alone. She wanted people to stop spreading rumors and stop the girls from talking about her."
Six of Prince's schoolmates have been charged with felonies in connection with the bullying prosecutors say led to her suicide.
She wanted people to stop spreading rumors and stop the girls from talking about her.
--Unidentified witness to police
The documents made public on Thursday focus on the alleged actions of the three 16-year-old girls -- Ashley Longe, Flannery Mullins and Sharon Chanon Velazquez. They have been charged as youthful offenders with felonies including violation of civil rights. Two also have been charged with stalking.
Read the case against Longe
Read the case against Mullins
Read the case against Velazquez
Three other students -- Sean Mulveyhill, 17, Kayla Narey, 17, and Austin Renaud, 18 -- have been charged as adults. The two male students, who according to the court document, dated Prince, also are charged with statutory rape and have pleaded not guilty.
"My client wants people to know that he's been charged with a crime, that he's presumed to be innocent and that he's pled not guilty," said Renaud's lawyer, Terrence Dunphy.
Colin Keefe, a lawyer for Velazquez said in a statement: "My client has been tried and convicted in the court of public opinion. I will remind you that we are dealing with a young adult, a child really, who is being swept up in circumstances that are beyond normal experiences."
"The full and true details involving this most unfortunate event have not been made public," Keefe said. "When all the details become known, I am certain that my client will be cleared of these charges."
I will remind you that we are dealing with a young adult, a child really ...
--Colin Keefe, attorney for Sharon Velazquez
CNN contacted attorneys for the other four suspects, but they did not immediately respond.
The court document tells the story of the dark side of high school life. Prince entered South Hadley High School on September 1 after moving to Massachusetts from Ireland. Initially, she was relatively popular. She dated Mulveyhill, a senior, but they broke up in December and he went back to his old girlfriend, Narey. Longe was close friends with Mulveyhill and also was friendly with Narey.
In December, Prince went out with Renaud, who had an on-again, off-again relationship with Mullins, according to the documents. Velazquez was Mullin's friend.
The defendants viewed Prince as someone who was "taking away" other girls' boyfriends, witnesses told investigators. As the alleged bullying escalated, Prince told a friend that she was "not a tough girl" and "would not know how to fight," the documents indicate. At one point, she asked friends to surround her for protection as she walked the halls of the high school.
South Hadley Public Schools Superintendent Gus Sayer has defended school administrators' handling of the matter, saying Prince had not told anyone about her situation.
He cited two incidents January 7 that brought the situation to light. The court documents describe at least three occasions in which teachers or administrators either witnessed or were told of the alleged bullying.
In one case, a teacher saw Prince in tears after she was berated by Velazquez and reported it, the document states. Velazquez, who threatened Prince, saying she'd "punch her in the face," was suspended for one day, the court documents said.
Sayer told CNN that Prince "was apparently a very private person, she bore a lot without talking to friends or with parents or with anybody at school."
None of the six students charged remains in school, Sayer said.
CNN's Brian Vitagliano and In Session's Jean Casarez and Beth Karas contributed to this story.
FOLLOW THIS TOPIC