Teen girls plead not guilty in bully suicide case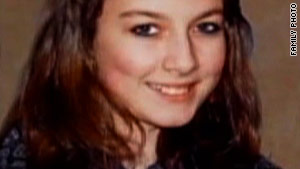 Phoebe Prince, 15, committed suicide in January in Massachusetts.
STORY HIGHLIGHTS
NEW: Three girls, all 16, arraigned on civil rights violations in bully suicide case
Three others already have entered not guilty pleas
Phoebe Prince's body found hanging in stairway leading to her family's apartment in January
Prosecutors say Phoebe, 15, was subjected to monthslong bullying campaign
Hadley, Massachusetts (CNN) -- Lawyers for three Massachusetts teenage girls accused of bullying a 15-year-old girl who committed suicide entered not guilty pleas on their behalf Thursday.
Ashley Longe, Flannery Mullins and Sharon Chanon Velazquez, all 16, were arraigned Thursday, although they did not appear in court.
They are all charged with civil rights violations resulting in bodily injury, criminal harassment and disturbing a school assembly. Mullins and Velazquez are also charged with stalking, and Longe is charged with assault with a dangerous weapon.
They were released on their own recognizance but ordered not to have any contact with the family of Phoebe Prince and to appear for booking procedures by Wednesday.
Prince, who had moved from Ireland to South Hadley with her family, hanged herself in January after enduring what prosecutors described as months of bullying. She was subjected to "verbally assaultive behavior and threats of physical harm," Northwestern District Attorney Elizabeth D. Scheibel said last month.
She said that the bullying appears to have been triggered by Prince's brief relationship with a male student.

Video: Teens plead not guilty in bully case

Video: Bullied to death?
Three other teenagers -- Sean Mulveyhill, 17, Kayla Narey, 17, and Austin Renaud, 18 -- pleaded not guilty Tuesday to charges in the case. In the indictments, which were returned last month, a Hampshire County grand jury charged Mulveyhill with statutory rape, violation of civil rights with resulting bodily injury, criminal harassment and disturbance of a school assembly.
The indictments charged Renaud, of Springfield, with statutory rape.
"My client wants people to know that he's been charged with a crime, that he's presumed to be innocent and that he's pled not guilty," Terrence Dunphy, attorney for Renaud, said this week.
Narey, of South Hadley, was charged with violation of civil rights with resulting bodily injury, criminal harassment and disturbance of a school assembly.
South Hadley Public Schools Superintendent Gus Sayer has defended school administrators' handling of the matter, saying Prince had not told anyone about her situation.
None of the six students identified in the indictment remains in school, he said.
CNN's Brian Vitagliano contributed to this report.
FOLLOW THIS TOPIC