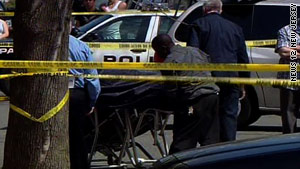 The dismembered remains of two people found in Linden, New Jersey, have been identified.
STORY HIGHLIGHTS
Prosecutor withholding victim's names pending notification of families
Autopsy was conducted on the remains Monday evening
Investigators also examined other contents found within the garbage bags
Not yet determined how long pair had been dead before they were discovered
(CNN) -- Authorities in Linden, New Jersey, say they have identified the two dismembered bodies discovered in a pair of trash bags left curbside in the quiet suburban community.
However, Union County Prosecutor Theodore Romankow said he was withholding the names of the victims Tuesday afternoon until their families had been notified.
Initially, officials "weren't even sure if we had a male and a female because of the dismemberment," Romankow said at a news conference Monday afternoon, hours after the grisly discovery. "We weren't sure which parts of the bodies we would find."
Romankow was able to confirm Monday that the body parts did belong to one male and one female victim. He revealed that the female victim was Hispanic and between 30 to 35 years old. The male was either Caucasian or Hispanic, he said, but he could not give an estimate of his age.
An autopsy was conducted on the remains Monday evening, and investigators also examined other contents found within the garbage bags. Authorities were able to determine positive identifications for both victims, Romankow said in a statement released Tuesday, but he added that the Union County medical examiner has "not yet determined how long the pair had been dead before they were discovered."
"It still remains unclear how long the bags had been on the curb or why the bodies were placed in Linden," his statement said.
Investigators have received conflicting reports as to how long the trash bags had been sitting along Cranford Street before neighbors alerted authorities, according to Romankow. He said some residents told investigators that the bags may have been there since last Thursday, while others claim they appeared early Monday morning.
Linden Police said they received a call at 9:39 a.m. Monday about the bags lying on the street. A police officer responded along with a town sanitation worker, which is the standard procedure for a call regarding improperly disposed of waste.
They discovered a total of six bags, four of which were made of cloth, police said. The other two were conventional dark black garbage bags, one of which was slightly open. After it was determined there was a body inside, a search warrant was obtained and investigators from the Linden Police Department and the Union County Homicide Task Force began their investigation.
Calling the discovery "gruesome" multiple times, Romankow explained that when investigators looked inside the black trash bags, "they found two bodies, a male and a female" and the remains were in "various states of dismemberment."
Yellow police tape surrounded the scene throughout the day Monday, tied to the tree trunks all along the tranquil street. Officials spread a white sheet around the trash bags before loading the remains onto two stretchers and taking them away for further study.
Linden Mayor Richard J. Gerbounka was at the site throughout the day Monday, calling the shocking discovery "very unusual for this area." He pledged that the county homicide investigative team was in the "process of culling the area for evidence."
Linden Police Chief Michael Boyle, at Monday's news conference alongside Romankow, said there have been no murders in the town this year. Romankow added, "Linden generally does not have homicides. It's a quiet community and it's rare."
Boyle expressed empathy for the residents of the "very quiet, tree-lined, residential neighborhood," as well as for police personnel. "It was obviously a gruesome find, especially for our officers," he said. "We're also human beings and to find bags with several body parts in them, it does affect them."
He assured residents that there will be extra patrols in the area, and he asked community members to report any suspicious activity.
Romankow stressed the possibility that somebody had simply dumped the bags and left the scene. "It's very possible the body parts came from a different city or another state," he said.
"It's a little unusual for someone to murder someone, dismember them, and leave them in the general area where the crime occurred," added Romankow. "That isn't to say it didn't happen that way, but we're looking into all the possibilities."
Authorities are asking anyone with information that might be relevant to the case to call Union County Crime Stoppers at (908) 527-4621.