STORY HIGHLIGHTS
Isadore Banks gets military honors 90 years after he served nation in World War I
Banks was chained to a tree and set on fire in June 1954
His case is one of the nation's oldest unsolved civil rights killings
"This has been a long time coming," a granddaughter said
Marion, Arkansas (CNN) -- A traditional three-shot volley salute and the solemn sound of taps echoed across the black cemetery in the Delta flatlands of Arkansas, just across the Mississippi River from Memphis, Tennessee.
The military honors were followed by the jubilant singing of "Amazing Grace." The service had been five decades in the making.
Everyone was here to honor Isadore Banks, an African-American veteran of World War I who was chained to a tree in June 1954, doused in gasoline and burned beyond recognition.
The slaying -- a year before Rosa Parks refused to give up her seat to whites on a bus in Montgomery, Alabama -- remains one of the nation's oldest unsolved civil rights cases.
"This has been a long time coming," said Marcelina Williams, a granddaughter who worked with the Army to arrange Monday's ceremony after she found her grandfather's military records. "Bless our country with freedom and righteousness."
A pillar in the African-American community, Banks helped bring electricity to the town of Marion in the 1920s and became one of the wealthiest black landowners in a region with a long history of racial violence.
His killing had a profound effect. Many blacks left and never came back. For those who remained, the message was clear: If you were black and acquired wealth, you knew your place.
Blacks from all around would come to the killing site -- to look at the oak sapling, to pray and to never forget. It seems most everyone in Crittenden County's black community had a hunch who was responsible.
To this day, some elders still name names. Yet they say no investigators ever interviewed them.
The questions linger: Why was no one ever charged? What happened to his hundreds of acres of land? Why did the FBI destroy his case file?
But on this day, in a rare moment in time, a semblance of dignity was restored to Banks, more than 90 years after he served his country in war.
Loved ones and about 50 others from the African-American community gathered in Marion Memorial Park, the black cemetery where Banks was buried so many years ago.
They burned him like a hog.
--Herman Hayes, 97
An honor guard folded an American flag 13 times, as is tradition, and handed it to one of Banks' daughters, Dorothy Williams. "I present this flag on behalf of a grateful nation," said Army Spc. Mathew Garland.
Williams set free five white doves, one representing each decade that has passed since her father was killed. The birds flew from a heart-shaped basket and circled the cemetery three times.
A sixth dove, representing Banks, was released by a granddaughter. "Let's set Grandfather free," said Marcelina Williams.
The dove soared in the air and joined the flock. All six flew off into the clouds, in the direction of where Banks died on that hot summer day.
Said his granddaughter: "It was like I was watching my grandfather take his rest, his true final rest."
A giant of a man
Isadore Banks was a giant -- 6-foot-1 and nearly 300 pounds. He was a quiet man who rarely laced up his shoes because his feet were so big. A generous spirit, he would pay for supplies at the local black school.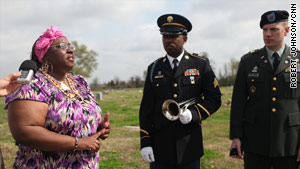 Marcelina Williams says she will not rest until her grandfather, Isadore Banks, gets justice.
A ladies' man, he also was known to carry on several affairs. His heirs include children and grandchildren from those relationships.
At 22, Banks left his hometown of Marion to join the Army. As a young black man in the segregated South, he had been denied the rights and privileges of his white peers. Yet when his nation called, Banks responded.
His first day in the service was June 15, 1918, in the final months of World War I. Records show his first payment was $71.30. It appears Banks was sent to Camp Pike, a massive complex near Little Rock where tens of thousands of soldiers with the 87th Division trained for battle. Blacks were kept separate from the white troops.
It's not clear from Banks' military records whether he deployed overseas. He received an honorable discharge on August 2, 1919.
After the war, Banks returned home and put his experience to work. In 1925, he was one of five men who brought electricity to this tiny Delta town. Working for a utility company out of Memphis, they dug holes with shovels and lifted the large wooden poles by hand. They strung up the wires and, within four months, Marion had power. Banks and his co-workers then brought power to nearby communities.
Along the way, Banks began buying land. He farmed cotton and helped form a black-owned cotton gin business in the 1940s to prevent white farmers from undermining the profits of black farmers. He also started a trucking company.
At one time, he owned as many as 1,000 acres in Crittenden County, according to newspaper accounts. Land deeds show Banks had at least 640 acres in 1947.
It was a very frightening situation, as well as a very sad situation.
--Jim Banks, son of Isadore Banks
By 1954, word was out that people were after him. There were three theories why, stories repeated by locals to this day:
-- Banks had beaten up a white man who had courted his oldest daughter, Muriel.
-- White men had made several offers on his land, but Banks refused to sell.
-- Banks was involved with a white woman who rented her land to him, and whites were upset.
At one point, Banks fled to the home of John Gammon Jr., a close friend and head of the Negro Division of the Arkansas Farm Bureau Federation. There, in the country outside Marion, he hid in Gammon's attic.
"The outer world was grim. Racism was the prevailing social code of most whites in the area and most black families cautioned their children and tutored them well in the law which would preserve their species," the late Gammon says in a family oral history.
A mob of whites showed up at the home with dogs, locals say. They failed to find Banks.
Burned 'like a hog'
On June 4, 1954, Banks disappeared. Newspaper accounts said his wife, Alice Banks, told authorities he went to get money from the bank to pay his workers.
His body was not discovered for days. He was 59, a month away from celebrating his 60th birthday.
"Chain Arkansas Farmer To Tree, Set Him Afire," read the headline of The Chicago Defender, an African-American newspaper, on June 26, 1954.
"Rumors here state that Banks may have been killed by whites who were anxious to get hold of his property," the newspaper said. "Another theory says that Banks had been involved with several girls, and had incurred the anger of a white man who was interested in one of them."
A reward of $1,000 was offered by local blacks for information leading to an arrest and conviction.
His body was found about 50 feet from his parked truck. An empty gasoline container sat next to his charred remains. Locals say three black men may have lured Banks to a group of whites.
At 97, Herman Hayes speaks in a voice like molasses, slow and deliberate. He has difficulty hearing. But he remembers the day Banks was found. How could anyone forget it?
Hayes went to the site shortly after the killing. The ground was scorched near the tree. Banks' killers had used tree limbs as kindling for his corpse. His Remington shotgun was still inside his truck.
"They burned him like a hog," Hayes said.
The body was wrapped in cloth from head to knees. Only his shoes, Hayes said, were identifiable.
"It was beyond human what they did."
Justice being what it was for black people back then, he said, "There was nothing you could do. ... People were just afraid. They didn't know what else was going to happen."
Jim Banks, now 67, was 11 when his father was killed. He remembers his uncle came to the house with the news.
"My mother collapsed," he said. "I can't articulate how I felt and what I went through in those days. It was not just me; it was a community thing. Everybody was just upset and fearful. It was a very frightening situation, as well as a very sad situation."
Fearing reprisals, Jim Banks and his mother, Willie Lee Banks, soon split town for Illinois.
His mother had always told him that she and his father had married in Las Vegas. He never questioned her. Records from the time show Isadore Banks was married to a different woman, Alice. Jim Banks doesn't know if his father was married to Alice and his mother at the same time. And that's troubling to him, too.
He was afraid to visit the site of his father's death for years. He finally got the nerve to go there in the 1990s. Looking at the tree, "I tried to vision what happened and the pain he endured."
Lack of justice
Julian Fogleman, now 89 and still practicing law, was the city attorney for Marion at the time of Isadore Banks' killing. His brother John, who was the assistant prosecuting attorney, is dead.
"There was some community discussion about who might've done it, but I never heard any suggestion of any name," Julian Fogleman said.
A coroner's inquiry to develop facts should've been launched into the killing, but "I can't tell you if they did or they didn't," he said.
Though Julian Fogleman followed his brother as deputy prosecutor in the 1950s, he said he never pursued Banks' case.
How does he feel that a killer was never brought to justice?
"I don't know what I think," said Fogleman, his voice growing agitated. "It hasn't happened, but 'why' I don't know." He added, "I just don't know."
In 1963, another killing grabbed headlines in Marion. A white woman said she saw Andrew Lee Anderson, a 17-year-old African-American, try to rape her 8-year-old daughter.
As word spread of the alleged attack, Anderson was chased by a mob of white men, including six sheriff's deputies. He was shot in the back of his leg in a soybean field. He was unarmed. A coroner's jury of 19 white men took just 20 minutes to rule the case justifiable homicide.
"We don't think the decision was wrong and don't plan to go any further with it," Julian Fogleman, then the assistant prosecutor, told the Arkansas Gazette.
Arkansas historians consider Crittenden County the most racist in the state. One, Michael Dougan, summed up the county's history on race relations in a single word: "Awful."
The killings of Isadore Banks and Andrew Lee Anderson are among the 108 priority cases identified by the Civil Rights Cold Case Initiative. Launched by the FBI in 2006, the investigations are a final push to try to solve racially motivated crimes from the 1950s and 1960s.
The Justice Department last month said it has closed eight cases and is in the process of closing 18 others, pending notification of family members. Three cold cases were referred to state prosecution in the last four years.
Banks' killing is still being investigated. "The FBI is taking this case very seriously," said FBI spokesman Chris Allen.
But on October 19, 1992, the FBI destroyed the case file. It likely included records, interviews, photographs and any correspondence between the field office and FBI headquarters.
"It was destroyed according to standard Records Retention and Disposition," Allen said. "This policy is not set by the FBI, but by the National Archives and Records Administration."
That's another outrage, say Banks' family members.
The bugler's call
Monday marked the first time Dorothy Williams had ever returned to Marion. It brought back a flood of emotions. She was 5 when her father was killed. Her mother was one of his girlfriends.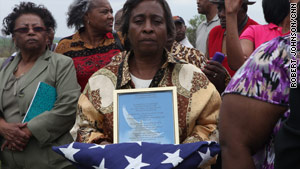 Dorothy Williams was presented an American flag in honor of her father, Isadore Banks.
Fearing trouble, Isadore Banks had packed his daughter, her siblings and their mother into a truck and sent them to St. Louis. "I'll contact you when things calm," he said.
They never heard from him again. About a month later, an aunt sent a photograph of her father's charred corpse.
"I never will forget what they did to my daddy -- never as long as I shall live," she said.
Monday's event brought her family together with Jim Banks for the first time in an awkward reunion of sorts. Jim kept his distance. "To be truthful, I hate to have to relive all those memories," he said of his father's death.
Yet everyone here was united behind the man who was killed five decades earlier.
"Until we know who the culprits were who took dad's life and until we know what happened to our land, it can never be a complete closure," Jim Banks said.
Army Sgt. Jamin Crawford placed his bugle to his lips. The wind carried the sound of taps through the cemetery.
"This is really special for me," said the African-American bugler, "to give the guy the respect he was deprived of."
The military ceremony didn't bring justice this day, but it did bring pride.
Isadore Banks, a man who represents the injustice of an era, will forever be known by a new moniker: private in the U.S. Army, veteran of the Great War.

CNN's Robert Johnson contributed to this report.