FBI joins search for girl who vanished on way to party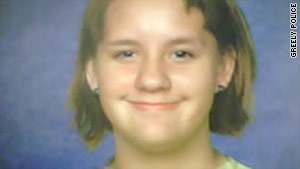 Kayleah Wilson, 12, disappeared Sunday while walking to a friend's birthday party.
STORY HIGHLIGHTS
Kayleah Wilson, 12, disappeared Sunday on way to birthday party
She was walking to a friends house about nine blocks away
Police say they have received about 300 tips
Know something? Call police at 970-350-9600 or the 1-800-CALL-FBI
(CNN) -- A $10,000 reward is being offered in the search for a 12-year-old Colorado girl last seen walking to a birthday party at a friend's home.
Kayleah Wilson, who is from Greeley, Colorado, disappeared on her way to the party on Sunday, March 28. The FBI and the Greeley Police Department hope the reward will solve a mystery that began more than a week ago.
"We can't rule anything out at this point," Greeley police spokesman Sgt. Joe Tymkowych told CNN. "It could be a runaway. It could be an abduction. Right now, we don't have anything to rule out, one side or the other."
Tymkowych said authorities have received more than 300 tips since Kayleah vanished, including two possible sightings at a mall near her home.
"We feel fairly confident that they may have seen her, and those [tips] are being followed up as well," Tymkowych said. "But that would have been during that time span when she left her house and before she was going to arrive at the birthday party."

Video: Girl, 12, vanishes walking to party
"We have a contingent of FBI agents and our own investigators that are working pretty much around the clock," Tymkowych said. Officers are using horseback, all-terrain vehicles, search dogs and an airplane, he said.
Kayleah lives with her mother, brother and grandmother, police said. They also told CNN there is no evidence to suggest any domestic conflicts that would cause her to run away.
Kayleah, who is a student at Brentwood Middle School, was not carrying a cell phone or a bag when she left the home Sunday afternoon for what should have been an eight- or nine-block walk to the party, authorities reported.
"We can't prove what happened to her," Tymkowych said. "We just don't know."
The case reminded him of another incident that occurred in Greeley a quarter of a century ago.
"About 25 years ago, we had a young lady about the same age that actually disappeared from her house," Tymkowych said. "We knew she was dropped off there after a school event, she was home for a short while ... but we were never able to determine what happened to her."
Kayleah was wearing a white-and-pink shirt, blue jeans and white-and-red shoes at the time she was reported missing.
She is 5-foot-1, 145 pounds, with brown eyes and brown hair.
Anyone with information about Kayleah's whereabouts is asked to contact the FBI at 1-800-CALL-FBI (1-800-225-5324) or the Greeley Police Department at 970-350-9600.