ESPN reporter Erin Andrews receiving death threats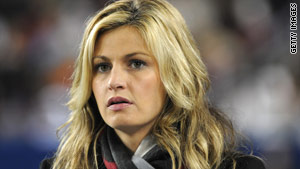 ESPN reporter Erin Andrews has been the target of several threatening e-mails, according to her attorney.
STORY HIGHLIGHTS
Lawyer: ESPN's Erin Andrews getting death threats

FBI says it has identified person responsible for the threatening e-mails

Illinois man sentenced for secretly taping Andrews nude, posting videos online

(CNN) -- Erin Andrews, the ESPN reporter who was secretly videotaped nude in 2008, has been receiving death threats, her attorney told CNN on Friday.
Several threatening e-mails regarding Andrews have been sent to sportscaster Dan Patrick since last September, according to Marshall B. Grossman, Andrews' attorney.
"Until very recently, [the e-mails] were of a sexual nature, but then turned violent" last month, Grossman said.
He said the e-mails received in March "are specific, they're violent, they identify the location and method of intended murder."

Video: Backstage with 'Dancing'
Grossman said the existence of the threats were first revealed to Andrews on Thursday morning. The e-mails were provided to Andrews' representatives by DirecTV, which carries the Dan Patrick Show. Patrick was formerly at ESPN.
The FBI began work on the case on Thursday and believes it has identified the individual responsible for the threatening e-mails, Grossman said.
Andrews is getting round-the-clock security, Grossman said. Grossman has also requested heightened security at Los Angeles' CBS Television City, where Andrews is competing on the show, "Dancing with the Stars."
In March, a federal judge sentenced an Illinois man to two and a half years in prison for taping Andrews in the nude.
The taping took place through a hotel-room peephole, and the video was posted on the Internet.
Michael David Barrett, 49, pleaded guilty to a federal stalking charge in December after prosecutors accused him of altering hotel peepholes so he could shoot video of Andrews while unclothed.
CNN's Sonya Hamasaki contributed to this report.