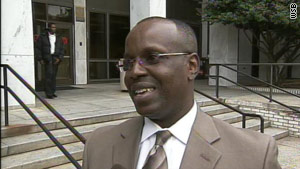 Nathan Grigsby, a chorus teacher, was fired and went on trial Monday in the so-called 'dirty dancing' case.
STORY HIGHLIGHTS
Students allegedly performed provocative dance in chorus class
Dance was videotaped, posted on Facebook
Teacher Nathan Grigsby was fired, charged with misdemeanors
Defense says parents, students will vouch for Grigsby at trial
Atlanta, Georgia (CNN) -- Jassundra Barnett says what her son did in chorus class was "silly." But she doesn't think it is a matter for the police and the criminal courts. And she doesn't think his teacher should take the fall.
Jerramy Barnett was one of three male students at Southwest DeKalb High School near Atlanta who performed a provocative dance in chorus class in 2008.
It began on December 11, 2008, during a "pass the mic" session in former chorus teacher Nathan Grigsby's class. Students had the opportunity to perform in front of the class in an "American Idol"-style recital, said Grigsby's lawyer, Jackie Patterson.
No one disputes the sexual nature of the boys' dance routine, which was widely viewed by students and faculty members on a student's Facebook page. What is in dispute is whether it was a crime.
On Monday, just before a jury was chosen at Grigsby's trial on charges of contributing to the corruption of minors, prosecutors announced they had filed public indecency charges against the three male students, including Jerramy Barnett.
His mother told CNN by telephone Monday night that the charges against her son, now a 19-year-old high school graduate who works in a church music program, are unwarranted.
She and Grigsby's lawyer contend that the charges were filed against the students in an attempt to keep them from testifying on the teacher's behalf.

Video: Ex-teacher in court over dance
"The charges were brought against him to intimidate him into not testifying for Mr. Grigsby," she said. "If not, why did they wait 16 months, until the morning of the trial, to charge them?"
A spokesman for the DeKalb County Solicitor's Office, which is prosecuting the case, did not return CNN's calls for comment on Monday. Earlier, he had said that the office would not be commenting until Grigsby's trial ends.
Court documents tell prosecutors' side of the story.
As the song "Meeting in my Bedroom" played, the teens were caught on camera "grinding on the floor," taking off their shirts, gyrating in front of some female students, and groping others, according to court documents. The video, taken on a cell phone camera, was posted on Facebook, drawing the attention of school administrators and law enforcement.
An internal investigation led to Grigsby's dismissal, along with misdemeanor charges against him of contributing to the depravation of a minor and being a party to public indecency. Authorities accused Grigsby of condoning the incident, laughing and clapping along and doing nothing to end the "inappropriate" display.
Jassundra Barnett and other parents, along with many students, are standing behind Grigsby at his trial this week in DeKalb County State Court. Barnett says the beloved teacher should not have to suffer the consequences of the teens' "foolish behavior" and she wants him back in the classroom.
For us as parents, it's very disheartening. He was the ideal teacher.
--Jassundra Barnett , parent
"For us as parents, it's very disheartening. He was the ideal teacher, he helped children develop, and now that he's not there, it's a missing piece of the school community," she said. "They took him away from his passion and away from his kids and we are losing out."
Barnett, herself an educator who has worked in Atlanta's public schools, described Grigsby as a nurturing role model that many students considered a father figure. He was the kind of teacher who made sure needy students were able to attend spring break trips to the Bahamas.
He lived in the neighborhood and walked home with the students. If convicted, Grigsby faces potential jail time but, more seriously for him, stands to lose his teaching certification.
A group of parents, including Barnett, wrote a letter to Crawford Lewis, superintendent of the DeKalb County School System, protesting Grigsby's termination in January 2009.
"Mr. Grigsby is a man of remarkable character and integrity. He has touched the lives of numerous students and parents," they wrote. "We as parents are fully convinced that Mr. Grigsby handled the matter that occurred in his class on December 11, 2008. We know that he has done nothing that would warrant his suspension or termination."
Court documents allege that Grigsby "willfully" failed to interrupt the dance routine, thereby allowing the students to "simulate sexual intercourse." Grisgby also is charged with "aiding and abetting" the male students in touching the girls and allowing the boys to appear in a state of partial nudity.
The case raises questions about where to draw the line between teens goofing off and criminal behavior, and how much responsibility a teacher bears for such conduct.
Tracey Bailey, director of education policy for the Association of American Educators, said Grigsby was responsible for the students' classroom conduct at all times.
"Teachers are paid to supervise, we're paid to instruct, we're paid to safeguard the children under our care -- that really is the essential purpose of our job, to supervise, instruct and to safeguard. Even if you step out of the room for 30 seconds, you are responsible for what happens in that room," he said.
Bailey said the conduct itself raises concerns over the kind of atmosphere that was allowed to flourish in Grigsby's classroom.
"Did he make adequate attempts to stop or discourage the behavior? Maybe he didn't participate or endorse or condone the behavior, but how long did it take him to see what was going on?" he said. "There's no carte blanche freedom to say 'I wasn't looking.' That in itself could be an admission that he wasn't properly supervising."
There's no carte blanche freedom to say 'I wasn't looking.'
--Tracey Bailey, Assn. of American Educators
The court documents graphically describe the sexual nature of the routine. After the music starts, the boys drop to the ground and start to "hump the floor," investigators wrote in an affidavit.
Then, they take off their shirts and start dancing toward female students seated in the front row.
"J.S. stands in front of an unknown female and starts to move his hips in a sexual manner, even sitting on her lap," the affidavit states.
He approaches another girl, grabs her legs and spreads them, positioning himself between them and gyrating in a sexual manner. The two other teens carry on similarly with other girls, picking them up and wrapping the girls' legs around their hips and gyrating against them.
At different points, two of the boys take off their pants.
"They took off their pants and ended up in their gym shorts," Jassundra Barnett said. "They did not do any lap dances or grope any girls. Of course, I would never condone that kind of dancing being done by any of my children, but these are kids acting silly."
She continued, "No one was hurt, they knew the girls involved -- they were laughing and playing along with it. But this is not a crime."
Opinions differ on Grigsby's involvement in the matter. According to investigators who viewed the video, Grigsby turned on the music, watched the boys dance and even clapped at one point.
"In the background Grigsby is watching, laughing and clapping. Never once at this point did Grigsby tell any of the students to stop, nor did he turn off the music," the affidavit states. But in a written statement submitted to the school administration, Grigsby said he stopped the students and spoke with them about their "unacceptable behavior," according to the affidavit.
His back was turned for a few seconds after he put on the music, his lawyer said, but as soon as he realized what was going on, he immediately turned off the music and scolded the students.
"Any teacher in his situation would have reacted the same way," Patterson said. "He stopped the music the moment he saw what was happening, but he couldn't control the previous acts because he wasn't looking."
Patterson said he has students who were in the classroom, including some of the males and females allegedly involved, ready to testify in his client's defense.
This is no more than a case of prosecutorial vindictiveness.
--Jackie Patterson, defense attorney
"You won't find a kid in the trial that's going to say anything bad about Mr. Grigsby, even the ones who were involved, because of his impeccable character," the defense lawyer said. "He has no criminal liability in the eyes of the law because he never participated or encouraged the students to do those acts."
He added that he has promises to testify from two of the young men charged Monday.
"This is no more than a case of prosecutorial vindictiveness. When the state realized they were going to testify for my client, then they decided to charge them," he said. "Ironically, they waited to do it until the day of the trial so they'd be forced to make a quick decision and choose sides."
Excerpts of student statements that were included in the court affidavit acknowledged what the boys did but said it was all "in fun" and not meant to offend or harm anyone. The student who posted the video on her Facebook page said she later removed it at the request of Grigsby, "because he said it could send the wrong message, which could negatively impact the school," according to the affidavit.
By then, school administrators had already seen the video and begun their own investigation.
On January 16, 2009, Grigsby was notified that his annual contract for the 2008-2009 school year was being proposed for termination on the grounds of incompetence, insubordination, willful neglect of duties and immorality, according to documents filed with the State Board of Education. After a series of appeals, his contract was terminated on May 4.
"The record contains more than sufficient evidence showing that Appellant allowed three male students to perform a sexually explicit dance in front of his classroom. In addition, there is more than sufficient evidence showing that Appellant failed to maintain proper discipline and management of his classroom," the State Board of Education wrote in a decision upholding his termination.
"Mr. Grigsby does not deserve this," Jassundra Barnett said. "It has already been a blow to our school and our community and because he's one of those teachers who make a difference. If anything, he deserves a second chance to move on with this life."
She says her son plans to testify in his former teacher's trial, regardless of the charges against him.
"You have to own up to what you did and he chose to do that. We raised him that way and he's not going to back down now," she said. "It may be a long fight but we're up for it."