Football player stabbed to death in Florida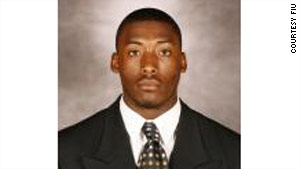 Kendall Berry, 22, was a running back on the Florida International University football team.
STORY HIGHLIGHTS
NEW: "Kendall Berry had positive energy and a bright future," university president says
Florida International University student-athlete, 22, killed on Modesto Maidique Campus
Running back's assailant still at large, authorities say
Police downplay danger to public, but students escorted to residence halls
Miami, Florida (CNN) -- A Florida International University football player was stabbed to death on campus, and the school's president said Friday that "we will not rest until the perpetrator is brought to justice."
Running back Kendall Berry, 22, was a junior from Haines City, Florida, majoring in education.
Miami-Dade police said Berry and another person "were involved in a verbal dispute" when Berry was stabbed Thursday night. He died en route to a hospital, and the school said police were looking for the other person.
The stabbing took place on the university's Modesto Maidique Campus.
In a video address on the school's Web site, President Mark B. Rosenberg passed along the university community's "heartfelt condolences" to Berry's family and friends.
"Our hearts are heavy," Rosenberg said. "Last night we lost a well-liked student who was a tireless worker in the classroom and on the ball field. Like so many of our students, Kendall Berry had positive energy and a bright future."
He noted that Berry's "grief-stricken mother" described her son as a negotiator, not a fighter.
Police said they believe there is no immediate threat as a result of the stabbing, but campus security personnel have taken special precautions, the school said. Rosenberg urged students to call police if they have any information about the stabbing.
Students returning to residence halls were escorted to their rooms and advised to keep their doors locked. Counselors also were available to speak with students.
The school said all classes and other university events scheduled for Friday were to take place.
"We must not let this heinous crime overshadow the incredible track record for safety that we have," Rosenberg said. "We must remember that our campus is a sanctuary if and only if we choose to follow the rules."