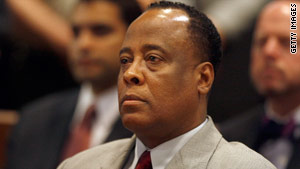 California's attorney general doesn't want Dr. Conrad Murray to practice medicine while he's being prosecuted.
STORY HIGHLIGHTS
Move would prevent Dr. Conrad Murray from practicing medicine during prosecution
In his filing, California Attorney General Jerry Brown says Murray was reckless
Murray has been charged with involuntary manslaughter in Michael Jackson's death
(CNN) -- The California state medical board will ask a judge to prevent Dr. Conrad Murray from practicing medicine in California while he is being prosecuted in Michael Jackson's death, according to documents filed on Tuesday with the court by California Attorney General Jerry Brown.
Brown, who is also running for governor, said in his filing that Murray, who was the pop star's personal physician, "administered a lethal dose of propofol, as well as other drugs, to Michael Jackson."
"We will argue in court that Murray was reckless in giving Jackson such a dangerous drug and has demonstrated a serious lack of judgment that should prohibit him from practicing medicine," Brown said.
Los Angeles County Judge Keith Schwartz refused a prosecution request to suspend Murray's California medical license as a term of his bond last month, but he did order him not to use any anesthesia on patients.
"I don't want you sedating people," Schwartz told Murray.
Murray defense lawyer Ed Chernoff said nothing has changed since then. Murray has no office or patients in California, he said. Murray resumed his medical practice in Texas and Nevada last fall.
"It is disingenuous for the attorney general to now bring this up just because Dr. Murray is coming to court April 5," Chernoff said.
The Los Angeles coroner concluded Jackson died of "acute propofol intoxication."

Video: Joe Jackson filing lawsuit
Murray told investigators he gave Jackson propofol, a powerful anesthetic, to help him sleep.
The medical board's executive director will appear at Murray's next hearing, set for April 5, to ask the judge to restrict Murray's license until the criminal proceedings are over, Brown said.
Murray pleaded not guilty to a single charge of involuntary manslaughter in Jackson's June 25, 2009, death. He was freed on $75,000 bond.
Brown's filing argued that Murray, "if allowed to continue to practice medicine poses a danger to the public health, safety and welfare."
Murray resumed his medical practice in Texas and Nevada last fall.
The filing comes a day after a confidential investigation report was leaked to The Associated Press, suggesting that Murray tried to hide propofol bottles even as he was trying to resuscitate Jackson.
Chernoff accused the prosecution of leaking the "death investigation police report" as a tactic to force the defense to reveal its strategy before a preliminary hearing.
Sandi Gibbons, the spokeswoman for the Los Angeles District Attorney, said prosecutors did not leak the document. "We haven't given anybody anything," Gibbons said.
The autopsy report said investigators found "multiple opened bottles of propofol" in Jackson's home.
Although the police report suggested Murray was trying to hide the bottles, Miranda Sevcik, a Chernoff spokeswoman, said the doctor told investigators about them and where they could find them in a bag in a bedroom closet.
Police did not seal Jackson's rented mansion for several days after his death, she said. Family members and others carried out boxes and a moving van pulled up to the home at one point, she said.
The defense also challenged the investigation report's reference to Jackson's two oldest children -- Prince and Paris -- that says they walked into the bedroom and saw the CPR efforts.
Chernoff said he expects more leaks from prosecutors as Murray's next hearing approaches.
"We would ask the public to reserve judgment until after the people's witnesses are placed under oath and subjected to the rigors of cross-examination. We are confident that a fair trial will ferret out the truth," Chernoff said.
Murray, who was with Jackson when he died, is charged with involuntary manslaughter by acting "without malice" but also "without due caution and circumspection."
Jackson, who hired Murray as his physician while he prepared for what was to have been a series of comeback concerts, called the doctor to his rented Holmby Hills mansion last June 25 at about 1 a.m., the report said.
"The decedent complained of being dehydrated and not being able to sleep," it said.
A police affidavit previously made public said the doctor told investigators he gave Jackson three anti-anxiety drugs to help him sleep that morning.
Murray told them he had been treating Jackson for insomnia for six weeks at the time of the singer's death. He said he had given Jackson 50 milligrams of the sedative propofol diluted with the local anesthetic lidocaine every night via an intravenous drip.
The doctor told police he was worried that Jackson was becoming addicted to the drug and was trying to wean him off it.
During the two nights before Jackson's death, Murray said, he put together combinations of other drugs that succeeded in helping Jackson sleep.