Lawyers for NBA star Gilbert Arenas to seek no jail time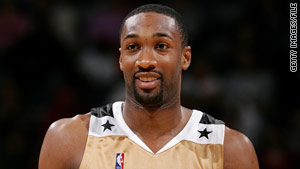 Washington Wizards star Gilbert Arenas said he was playing a joke when he pulled a gun in the locker room.
STORY HIGHLIGHTS
Prosecutors said they want a three-month prison sentence
Despite plea deal, Arenas could get up to five years in prison
Defense lawyers describe Arenas as "very decent and unfailingly kind to others"
Prosecutors said NBA star tried to cover up his crime
(CNN) -- Lawyers for suspended NBA star Gilbert Arenas say he should not have to go to jail for locker room gun violations when a judge decides his sentence Friday in Washington. Prosecutors said they want a three-month prison sentence.
Arenas could receive anywhere from probation to a maximum sentence of five years in prison for illegally bringing four guns to the Washington Wizards locker room during an ongoing dispute with teammate Javaris Crittenton.
"Despite a history of pranks and misguided practical jokes, he is a peaceful man who is not aggressive or confrontational in any way," said court documents released by Arenas' attorneys on Tuesday. In the sentencing memo, his lawyers say wide support expressed in letters from those who know him "paints a picture of a man who is somewhat offbeat but fundamentally very decent and unfailingly kind to others."
Prosecutors for the U.S. Attorney's office said Arenas tried to persuade Crittenton to cover up their confrontation.
"If any other individual without fame, power and the wealth of this defendant brought four firearms into the District for the purpose of a similar confrontation, the government would seek their incarceration and the court would almost certainly give it," said prosecutor Chris Kavanaugh.
When Arenas pleaded guilty on January 15, prosecutors agreed in a plea deal not to seek more than six months in jail. Judge Robert Morin told Arenas, however, that he could decide to give Arenas up to five years in prison.