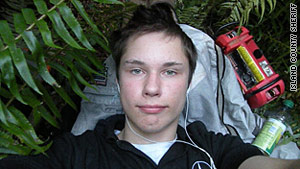 Police say they found this self-portrait of Colton Harris-Moore in a camera left in a stolen car.
STORY HIGHLIGHTS
Dogs, helicopters used in search for teen suspected of stealing planes
Search focusing on rugged terrain on island off coast of Washington state
Colton Harris-Moore, 18, is known in Washington as the "barefoot burglar"
Time magazine calls him "America's Most Wanted Teenage Bandit"
Seattle, Washington (CNN) -- An 18-year-old fugitive suspected of stealing airplanes eluded police again Thursday despite an active manhunt -- including helicopters and search dogs -- on an island off the coast of Washington state.
At least five local and federal agencies were involved in the hunt for Colton Harris-Moore on Orcas Island, which began at 1:15 a.m. PT (4:15 a.m. ET), according the San Juan County Sheriff's Office.
But 15 hours later police were forced to "scale down" the search after finding no trace of their quarry, according to a statement from Sheriff Bill Cumming.
Thursday's search focused on "a very isolated and very rugged area on the west side of the island where only a few homes are located," according to a statement from Sheriff Bill Cumming.
In addition to the search dogs and helicopters, FBI agents were in the manhunt. The statement did not elaborate on what led authorities to the area.
Read about what police say was his latest exploit
Harris-Moore's alleged exploits have attracted a following on the social-media site Facebook -- with several pages boasting thousands of fans -- and established him as a thorn in the side of local law enforcement officials, who said they are frustrated by their inability to put handcuffs on the teen.
Harris-Moore faces 11 felony charges, including allegations of driving a stolen car, Internet identity thefts and burglaries.
"Keep on running never give up. Planes, Trains, and automobiles!" read a message posted Thursday on one of the Facebook sites dedicated to Harris-Moore.
First arrested at 12 on burglary charges, Harris-Moore earned the nickname the "barefoot burglar" for allegedly breaking into vacation homes along the Washington coast without wearing any shoes.
But a string of alleged plane thefts that began in 2008 raised Harris-Moore's profile, and a December issue of Time magazine dubbed him "America's Most Wanted Teenage Fugitive."
Investigators said at least four planes stolen or crashed in Washington state involved an inexperienced pilot who may have walked away from the rough landings by sheer luck.
Harris-Moore has not been charged in any of the plane thefts, but Cumming, the San Juan County sheriff, said he is the main suspect. Forensic evidence has not linked Harris to the thefts, but Cumming said investigators suspect the teen fugitive is responsible.
"There is the letter of the law, and there is what we believe," Cumming told CNN in a recent interview. "We will continue to investigate and search for him in relation to the plane thefts."
In a theft last month, a plane skirted airspace closed for the Vancouver Winter Olympics, alarming federal authorities on high alert. The plane landed on Orcas Island, south of the U.S.-Canadian border. A local market also was ransacked near where the empty plane was found, police said, and the thief left an apparent calling card: outlines of feet drawn on the floor.
"His fans say he's sticking it to the man," said Kyle Ater, owner of Orcas Homegrown Market. "But I am a small independent grocery store owner, I am not Wal-Mart. I have slept in the store every night since it was robbed. I just want to go home."