STORY HIGHLIGHTS
Florida raids target 16 convenience stores
Dozens arrested, charged with defrauding government of millions
Alleged scheme involved using public assistance debit cards to get cash, liquor
Merchants also made profit on illegal transactions, agents say
Tampa, Florida (CNN) -- Led out of a Florida convenience store in handcuffs, the first face Wayne Stumbo saw belonged to his mother.
"What happened, Wayne?" she asked.
"I don't know," he replied.
Florida state investigators say Stumbo, 45, was being arrested on multiple charges of public assistance fraud. He was among nearly a dozen people swept up Wednesday by the Florida Department of Law Enforcement.
Under Operation Cash Exchange, the FDLE, as the agency is known, targeted 16 stores believed to be responsible for $3.5 million in fraud over the past year. Retailers allegedly pocketed cash from a federally funded assistance program.
Authorities said Thursday they have 21 people in custody and are seeking several others.
Besides Stumbo, two others were arrested at Big Daddy's Quick E Driveby in Tampa, Florida, where Stumbo worked as a clerk. They were identified as store owner Curtis Walker and employee Tabitha Wood.
None of those arrested would comment at the scene.
Agents say Big Daddy's was a front for illegal transactions that cost Florida taxpayers millions.
"If you multiply nationwide, it has to be in the billions of dollars," said Ken Tucker, the FDLE's assistant commissioner.
Police say Walker, known as "Big Daddy," was found dead in his shop Thursday morning after being released on bail. The death is being classified as a suicide, said Tampa police spokesperson Andrea Davis
At first glance, they look like your typical convenience store purchases -- beer, cigarettes, maybe even cash back -- all obtained with the swipe of a debit card.
But if your debit card has government assistance money in its account, these transactions are illegal. And, if you're a store owner or manager who accepts the card for these items, you could face arrest and jail time.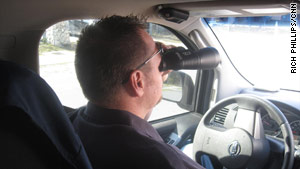 Special Agent Bob Ura conducts surveillance at one of the grocery stores in Tampa, Florida.
Law enforcement agents say the fraud involved the use of government debit cards, called Electronic Benefit Transfer cards. The cards can be used only to purchase food. They can't used to buy liquor or tobacco, and they can't be converted to cash.
According to investigators, the scam works like this: A store clerk swipes a debit card and then uses a keypad to punch in the dollar amount. So, if a clerk punches in a transaction for $200, he or she might hand a customer $100 in cash. The store owner makes a quick but illegal profit, and the customer has cash to buy whatever he or she wants.
Formerly known as the food stamp program, the Supplemental Nutrition Assistance Program is administered by the U.S. Department of Agriculture.
The U.S. government allocated $50.3 billion to the program in 2009 to help feed 38 million eligible Americans. With the addition of stimulus money, that's roughly $15 billion more than was allocated in 2008.
Many of the stores targeted in the raids were allowing cash exchanges to be made with the food stamp debit cards, the FDLE alleged. The agency says undercover agents used the cards for unauthorized purposes
"It's a colossal cost to state governments," said Russ Fernandes, the FDLE's chief of public assistance fraud.
Some of the stores were small, with barren shelves of expired food, according to investigators. The FDLE believes that many were set up to defraud the government of money.
"They use the cash to buy drugs," supervising Agent Bob Ura said. "They get this money for free, and they get 50 cents on the dollar, in cash, and then go buy crack cocaine, marijuana."
But other people are simple victims of the economy, desperate for the cash that might pay the water or electric bill.
"People will say they used it to pay bills. Some people will have a habit to support, substance abuse. Some people use it for a motel room; some people use it for a car payment. There's just a variety of things," said Christy Thacker, the FDLE's investigations manager.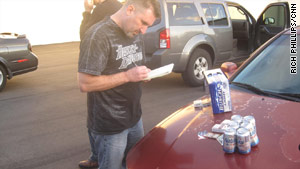 Merchandise illegally bought by undercover agents is itemized for use as evidence later.
Federal officials say similar debit card scams have been tracked nationwide since the cards replaced food stamps in 2004. Fraud has decreased since the cards were implemented, according to the USDA, but investigations nationwide continue.
The USDA estimates that about 1 percent of the $50 billion program is fraud, but many law enforcement officials believe that the number is much higher.
CNN witnessed some of the undercover buys made during the investigation. Beer, cigarettes, sunglasses, rolling papers and even condoms were paid for with government assistance money -- and agents received cash back at 50 cents on the dollar.
At Big Daddy's, agents noticed that grocery shack did $34,000 in benefit transfer card business in December. By comparison, other small markets in the area were doing about $1,000 that month. It was an instant red flag, so undercover agents started to shop there and put it all on videotape.
One conversation secretly recorded with Wayne Stumbo, the arrested clerk, went like this:
Agent: "Hey, what's up, brother?"
Clerk: "How you doing?"
Agent: "Good, good. Let me get a 12-pack of Michelob in the can. You have any Trojans in there?"
Clerk: "Huh?"
Agent: "Trojans."
Clerk: "Yeah."
Agent: "Can I have a three pack? Yeah. Just give me two of those."
The items were put in a bag, the agent's card was swiped, and the agent drove off with his illegally purchased beer and condoms.
"I told him what I wanted, and he went and got the items for me, no questions asked," said the agent, whose identity is being withheld because of the undercover nature of his work.
CNN accompanied state agents to another Tampa convenience store. The small shack, brightly painted green, stood out in the lower-middle-class neighborhood.
An undercover agent entered the store and surveillance video and audio captured the transaction. Handing the female clerk her debit card, the agent asked, "Can I get a hundred back off of this?"
The agent explained that she had gotten cash there before.
Agent: "It wasn't you. It was another dude. Shorter, rounder face. He gave me one for two."
Clerk: "What do you want?"
Agent: "I really want one hundred back."
The clerk then handed over $100 in cash.
"See what they do? They charge the U.S. government $212.02, EBT food benefit, food balance ... and they give us $100 in cash, cigarettes and chips, all for $212," Ura said.
Another agent observed, "It's as easy as going up and getting a Coke and some potato chips."