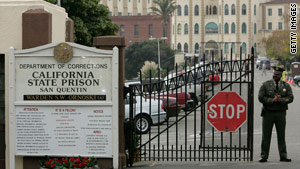 A prison guard stands at the gate of San Quentin Prison in San Quentin, California.
STORY HIGHLIGHTS
State prison count drops for first time in 38 years

California led prison population decrease in 2009

Number of inmates in federal prisons now at all-time high

(CNN) -- For the first time since 1972, the number of state prisoners in the United States has dropped, albeit only slightly, the Pew Center on the States reported Wednesday in a survey.
As of January 1, there were 1,403,091 people in state prisons, which is 5,739 fewer than a year earlier, said the survey, titled "Prison Count 2010," a drop of 0.4 percent.
The changes were all over the map, with prison populations down in 27 states and up in 23. The largest percentage decrease occurred in Rhode Island, which saw its prison population drop by 9.2 percent. The largest percentage increase was in Indiana, whose prison population rose by 5.3 percent.
In absolute numbers, California state prisons led the decrease, lowering their prison census by 4,257 last year. Michigan followed (down 3,260), then New York (down 1,699).
With 2,122 additional prisoners, Pennsylvania state prisons gained the most in absolute terms, followed by Florida (1,527) and Indiana (1,399).
Adam Gelb, director of the Public Safety Performance Project of the Pew Center on the States, credited at least part of the overall drop to the realization by state officials that they can cut their prison populations while protecting public safety.
"A decline in the prison population in itself isn't necessarily good news," he said in a telephone interview. "It's only good news if states are reinvesting prison savings into a stronger system of supervision for offenders who are on the street."
Policy options include diverting low-level offenders and probation and parole violators from prison, strengthening community supervision and re-entry programs, and accelerating the release of non-violent inmates who complete risk-reduction programs, he said.
The financial incentives for setting up such programs are strong. On average, it costs $78.95 per day to house a prisoner versus $3.42 per day to fund a probation program, he said. Even if the program includes the bells and whistles of drugs tests, GPS surveillance and electronic monitoring, it can still be carried out at a fraction of the cost required to house a prisoner in a cell, he said.
The overall drop in state prison population did not extend to federal prisons, where the prisoner head count rose last year by 6,838 to a record 208,118, the report said.
Factoring in the 3.4 percent jump in federal prisoners, the nation's overall prison population rose by 1,099 people.
"We've still got one in 100 adults in this country behind bars," said Gelb. "A drop of 5,000 on the state level and an increase of 6,000 on the federal level obviously doesn't change at all the fact that we lead the world by far in incarceration."
He rejected the theory that cash-strapped states are opening prison doors in a reckless rush to save money.
"The downward trend did start a good bit before the recession began," he said. "It started with states like Kansas and Texas in 2007, when the economy was humming along."
That year, Texas was projecting a growth of 14,000 to 17,000 inmates over the next five years at a predicted cost of $2 billion, he said.
A bipartisan group of state leaders chose instead to invest $241 million over two years to create a network of treatment and diversion programs -- from more probation officers to more drug courts to more residential drug-treatment centers.
"They flat-lined that projection" in prisoners even as the the state's crime rate fell in tandem with the national average, Gelb said.
Rhode Island achieved its reduction in prisoners by changing how long inmates have had to serve, he said.
Officials in Indiana, which had the highest rate of growth, will conduct an analysis to find the factors behind the increase.
Though the overall drop merits attention, it's hard to tell what it means. "It is way too early to say whether this is a tap of the brakes or a shift into reverse," Gelb said.
Between 1925, when national prison statistics were first collected, and 1972, the increase in prisoners tended to track the population growth rates, rising from 85,239 prisoners in state facilities to 174,379. That's an increase of 105 percent.
But in 1973, the number of prisoners began to rise sharply, a change that Pew attributed to stiffer sentencing and release laws and moves by courts and parole boards to imprison more offenders for longer terms.
In the nearly four decades since 1973, the state prison population has grown 705 percent, the report said.
The Pew survey used data from the Association of State Correctional Administrators, which consists of the directors of state departments of corrections and the federal Bureau of Prisons.