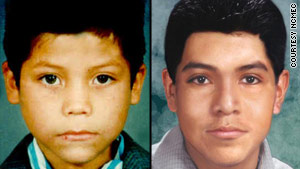 Jose Fuentes is shown as a child, and how he might look now, at age 23.
STORY HIGHLIGHTS
Jose Fuentes, 7, vanished in December 1993
Known as 'Paquito,' he was crossing the border with his siblings
Family had made long journey from village in El Salvador
Know something? Call 1-800-THE LOST or San Diego Police at 1-619-531-2000.
New York (CNN) -- On December 7, 1993, at around midnight, a 7-year-old boy named Jose Fuentes slipped through a hole in a high metal fence, crossing from Northern Mexico into Southern California.
Jose, with his two teenage brothers, a sister and an aunt, had finally reached the United States border after a harrowing month-long journey of more than 2,000 miles from El Salvador.
Chaos and confusion erupted at the fence when someone in the large group sneaking into the U.S. yelled "policia," according to Jose's sister, Maria Fuentes.
Jose was separated from his family in the group's mad scramble to breach the fence and dash to the American side of a two-way road guarded by the U.S. Border Patrol.
"People were running so crazy,'' said Santos Fuentes, one of Jose's brothers who made the trip. "Since everybody was running, we didn't know where he went. There's a lot of bushes and trees there. And it's dark,'' he said.
They were somewhere near San Ysidro in San Diego County but nobody, not even the authorities, knows exactly where.
Paid smugglers, or "coyotes," who shepherded Jose's family to the United States, brought them to a "safe house" in California. A search team went back to look for Jose, but without success, Fuentes said.
"Every time we talk about it, it's really hard. It's painful,'' he said.
Since everybody was running, we didn't know where he went.
--Santos Fuentes, brother
By the numbers, crossing the border has become even more treacherous over the years. From 1995 to 2003, border-crossing deaths doubled to 472, according to a General Accounting Office survey of available data.
As urban areas near San Diego, California, and El Paso, Texas, became more closely patrolled, illegal immigrants began to favor the desert borders near Tucson, Arizona, where temperatures topping 115 degrees can turn the trip deadly.
In 1990, 41 border-crossing deaths were ruled homicides and the figure held fairly steady with 33 in 2003, according to the GAO.
As Jose Fuentes' family made the trip, Santos Fuentes, now 31, says he had no concept of the United States. "We just knew that we were going to be with my mom.''
Jose's mother, divorced from the children's father, arrived in the late 1980s. "She came here to work and make money. We were four and she couldn't support us,'' he said.
Left behind, the children were raised by their grandparents in El Salvador.
As they made their way from El Salvador through Guatemala and into Mexico, Fuentes recalls riding one crowded bus, truck or van after another with dozens of other migrants.
Washing their clothes or taking a shower were wishful fantasies.
At one checkpoint, everyone in the truck had to lie down, hiding in a cramped compartment while inspectors looked for human cargo, Fuentes said.
"We were aware that they could catch us and send us back. We were all very scared,'' said Fuentes who lives in Fort Worth, Texas. He is studying for a master's degree in divinity and wants to be a professor of religion.
Once they were in the United States, the search for Jose was complicated by the circumstances of his disappearance and their own immigration status at the time.
In a 2008 interview with investigators at the San Diego Police Department, Maria Fuentes, a 27-year-old certified nursing assistant who works in Atlanta, Georgia, said Jose did not know his birth date or last name.
He may not have even known his given first name.
"We were from a small village and never went to school. We always called him Paquito,'' she recalled telling police.
Jose was a "normal little boy who liked to play and laugh and do things,'' Santos Fuentes said. "He was a very happy boy. We played soccer. That was our game.''
The case remains open and active but new leads rarely surface, according to Detective Gary Hassen of the San Diego Police Department.
Once, the skull of a child was found. DNA from Jose's parents tested negative for a match, Hassen said.
"You have a 7-year-old who went missing 17 years ago. There are only so many resources you can put towards it,'' Hassen said, adding that many more people have disappeared in San Diego since 1993.
Jose would be 23 today.
"We really want to know how he is,'' Maria Fuentes said through her tears. "We were hoping we would one day be able to hug him. It's been so long. It's time for us to get back together again and be with him.''
If you have information, call The National Center for Missing & Exploited Children at 1-800-THE LOST or the San Diego Police Department tip line at 1-619-531-2000.
FOLLOW THIS TOPIC