Irish police: U.S. woman whom paper had tied to alleged plot is freed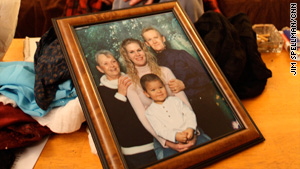 A family photo shows Jamie Pauln-Ramirez with her son, mother and stepfather.
STORY HIGHLIGHTS
NEW: Irish authorities release Jamie Paulin-Ramirez; no charges have been filed
NEW: Paulin-Ramirez has not been charged and is not out on bail, police say
Wall Street Journal -- citing unnamed sources -- had linked her to a probe of an alleged plot
Recent arrests were linked to alleged conspiracy targeting cartoonist, paper reported
(CNN) -- A Colorado woman who the Wall Street Journal said was arrested as part of an investigation into a conspiracy to commit murder was released from custody Saturday, Irish police said.
Sgt. Declan Obyrne told CNN that Jamie Paulin-Ramirez was released from Thomastown Garda Police Station on Saturday afternoon.
Obyrne said Paulin-Ramirez has not been charged and that she is not out on bail. He did not provide further details of Paulin-Ramirez's detainment.
The Wall Street Journal, citing unnamed sources, on Saturday reported the 31-year-old Leadville, Colorado, mother had been arrested in connection with the investigation into an alleged plot to kill a Swedish cartoonist who poked fun at the Muslim prophet, Mohammed.
CNN could not immediately verify the report.
A Pennsylvania woman was indicted March 4 for allegedly conspiring to support terrorists and kill a person in a foreign country.
Last year, Colleen LaRose, who authorities say called herself "Jihad Jane," agreed to kill a resident of Sweden, the indictment says, and a U.S. government official familiar with the case identified the target to CNN as Lars Vilks, a cartoonist who outraged some with a drawing of Mohammed.
LaRose worked with at least five co-conspirators, the indictment says. Authorities did not identify them, but police in Ireland took seven people into custody Tuesday in arrests that the U.S. official said were directly related to the investigation of the plot involving LaRose.
Irish police confirmed to CNN Saturday that seven people were arrested last week, though they would not release the identities or the reasons for the arrests. Four of the seven -- a married couple from Algeria, a Libyan woman and a woman whose nationality was not disclosed -- have been released, police said Saturday.
The main contact for LaRose is believed to be an Algerian man who was among the seven arrested and who has a relationship with Paulin-Ramirez, the Wall Street Journal reported, citing a person close the matter. LaRose spent roughly two weeks in Ireland last fall, the source said, according to the newspaper.
U.S. Justice Department spokesman Dean Boyd told CNN Saturday, "We are aware of the arrests in Ireland last Monday but at this time we have no comment on the identities of those arrested in Ireland. Our investigation continues."
Paulin-Ramirez's stepfather and mother, George and Christine Mott, told CNN that they heard of their daughter's arrest first from the Wall Street Journal and had no official confirmation.
CNN's Nic Robertson, Jim Spellman, Jeanne Meserve and Journalist Peter Taggart contributed to this report.