Search of Texas landfill ends; no sign of 'Baby Gabriel'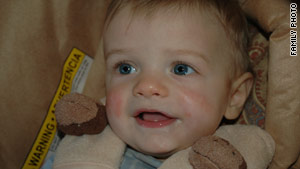 Gabriel Johnson was last seen in San Antonio, Texas, with his mother, Elizabeth Johnson.
STORY HIGHLIGHTS
8-month-old has been missing since December 26
His mother has said that she killed him and also that she gave him away
Police chief says he's found no sign of homicide, but case remains open
(CNN) -- After searching a landfill for clues into an 8-month-old boy's disappearance, investigators in Texas said Friday that they have discovered nothing that shows that the baby was killed.
"We found no evidence of a homicide," San Antonio Police Chief William McManus told reporters at a news conference. He said investigators searched for 16 days and went through 4,260 tons of debris at the landfill looking for Gabriel Johnson, who has been missing since December 26.
"The good news is that we have no homicide at this point; the bad news is that the case remains open," he said.
McManus said the missing persons unit will continue to follow up on any leads and the homicide unit will investigate "any information indicating foul play."

Video: Baby Gabriel not in landfill
He said authorities will meet in the coming days to determine their next step.
Gabriel was last seen in San Antonio, with his mother, Elizabeth Johnson, who has refused to disclose information about his whereabouts.
She told Gabriel's father she killed the boy and has also said she gave him away to a couple in San Antonio, police say. Johnson drove Gabriel to San Antonio from Tempe, Arizona, and she went to Florida a week later, according to investigators.
Johnson, 23, was arrested in Florida and extradited to Maricopa County, Arizona, where she remains behind bars, charged with kidnapping, custodial interference and child abuse.
A lead prompted investigators to focus on the landfill, which is owned by Republic Services, a waste and environmental services company based in Phoenix, Arizona.