Maui police: Hiker's disappearance 'suspicious'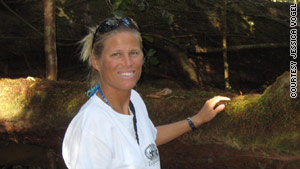 Laura Vogel, 43, vanished while hiking in Hawaii. Police call her disappearance "suspicious."
STORY HIGHLIGHTS
Laura Vogel, 43, vanished February 21 while hiking in Hawaii
Her abandoned vehicle was found near a homeless encampment
Police call disappearance "suspicious," search cell phone records
HLN's Jane Velez-Mitchell will feature updates to this developing story
(CNN) -- The search for a hiker who vanished while camping alone on the cliffs of Maui, Hawaii, has been suspended, but police say their investigation is still going full force.
Laura Vogel, 43, was last heard from on February 21 while hiking by Pauwela Point, in Haiku, Hawaii. That night she sent a text message to a friend, saying she planned to camp out and was "meeting all the locals."
Friends realized Vogel, a tutor, was missing when she didn't show up to work the next morning.
Vogel's van was found abandoned in a grassy area off the main road. The passenger side door was open and her keys were in the ignition. Vogel's wallet and cell phone were not in the car.
The van was parked in a transient camp where a group of homeless people live out of their cars, according to investigators.
Police say they have spoken to everyone living in and around that area and have come up with nothing.
"People saw Laura. People know they saw her that night. Someone knows something and they need to find those people," said Jessica Vogel, the missing woman's sister-in-law. "People know what happened or at least what she was doing that night."
The back of Vogel's cell phone was found near her abandoned vehicle.
Police searched for days through heavy vegetation and steep cliffs and found no evidence of foul play or an accident, said Lt. Jakubczak of the Maui Police Department.
"Right now, it's a suspicious case," Jakubczak said. "By all accounts she is an experienced hiker, a responsible woman. There is a lack of evidence of foul play, but there is also a lack of evidence that she fell. There's nothing to point us in either direction."
Vogel's cell phone could be the key to finding her.
Phone records show the last call made from Vogel's phone was to a number that she had never called before. The number was not saved in her cell phone.
Police traced that number, but it is registered to a man who says he has not used it in 10 years.
Investigators are working with the phone company to determine whether they can trace the call to a person of interest.