Lil Wayne heads to jail on Tuesday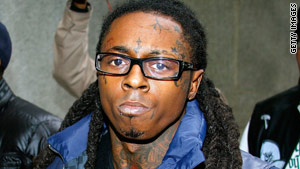 Lil Wayne, whose real name is Dwayne Carter, is expected to get a 1-year sentence.
STORY HIGHLIGHTS
Rapper Dwayne Carter will be sentenced for a gun conviction
Carter's sentencing was postponed so he could get dental work
Work includes removal of diamond-encrusted braces
New York (CNN) -- Rapper Lil Wayne will go directly to jail after he is sentenced by a Manhattan judge Tuesday afternoon for a gun conviction, according to a person familiar with the case.
Dwayne Carter, as he is known legally, pleaded guilty to felony gun charges in a deal with prosecutors October 2009. He is expected to get a one-year prison sentence.
His sentencing was delayed three weeks so he could get some dental work done, including removal of his diamond-studded braces.
The person familiar with the case would not confirm where Wayne would serve his sentence.
The plea agreement was a result of the rapper's 2007 arrest outside New York's Beacon Theater.
According to police, Wayne had a .40-caliber pistol on his tour bus.
"It's not his gun, they know whose gun it is," Wayne's attorney, Stacey Richman, said after a hearing last month.
In an unrelated case, Wayne also faces felony drug possession and weapons charges in the state of Arizona.
Lil Wayne is a multiplatinum-selling and Grammy-winning rap artist. His hits include "The Block is Hot" and "Lollipop," and his album "Tha Carter III" was the top-selling disc of 2008. His latest album, "Rebirth," was released last month.
CNN's Jennifer Rizzo contributed to this report.