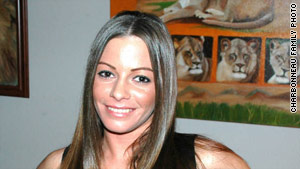 A Texas businessman has been charged in the death of Kristen Charbonneau. Her body has not been found.
STORY HIGHLIGHTS
Kristen Charbonneau, 25, disappeared during the summer of 2005
She was a dancer at Baby Dolls, a strip club in Fort Worth, Texas
Businessman Daniel Moore, 40, was charged during the weekend with killing her
Charbonneau's body has not been found
New York (CNN) -- A man long considered a person of interest in the disappearance of an exotic dancer was charged during the weekend with killing her, authorities said.
Daniel Moore, 40, a local businessman, was taken into custody Friday evening in Arlington, Texas, said Sgt. Gary Landers of the Euless Police Department. Moore, a car salesman, was released after posting $35,000 bond.
Moore is accused in the death of Kristen Charbonneau, 25, who vanished during the summer of 2005. Her body has not been found.
Moore's attorney did not return CNN's phone call requesting comment. But he told the Fort Worth Star-Telegram last summer that his client was innocent of wrongdoing.
The young woman's parents, who were certain from almost the beginning that Moore was responsible, said they were still stunned when detectives told them of the arrest. They had publicly named Moore as the suspect in flyers distributed in his neighborhood.
"I just tore the house all up; I lost it," David Charbonneau said, describing his reaction to the arrest. "The family had to crawl on top of me to hold me down. I cried out, 'My baby girl, my poor baby girl.'"
"When we found this out, it just hit me like a freight train, and I wasn't expecting that," Monica Charbonneau told CNN. "I've waited a long time to say his name out in public."
Police would not disclose details about the evidence. "We'll present the case to the grand jury, and they'll make their decision," said Sgt. Landers.
But key facts surrounding the investigation have been known for some time.
Charbonneau was last seen on the afternoon of August 11, 2005, as she was leaving the Baby Dolls strip club in Fort Worth, Texas, where she worked. A customer followed her out the door, investigators said. She had called for a taxi to take her home but when the cab arrived to pick her up, she was gone.
Monica Charbonneau said Moore was familiar with her daughter. "He knew her very well," she said. "They sat at the table together several times. When I started piecing all that together, I thought this is it, this is him."
Family members conducted their own searches. They also created a Web site to generate leads, find witnesses and keep her memory alive.
In addition, the Charbonneaus wrote to Texas officials, urging them to help in the investigation. Monica Charbonneau believes the Web site and the letters were instrumental in Moore's arrest, although she would not elaborate.
The slain dancer's father said he often thought about taking the law into his own hands.
"I would wake up every morning and every night looking at my shotgun; it would be the first thing there, and there were many times it would be loaded," he said.
He also said he had a "hit kit" to nail the suspect to a tree, to "get this man to tell me where my daughter's body was."
"I know that sounds as sick as could be, and as a father and human being I never thought I could even think that way, but when something like this is taken from you, and you as a father ... you find out what you are really made of. I guess I was made of more than I thought I was."
The Charbonneaus call this the "first step" in what they understand will be a lengthy process through the criminal justice system.
They want people to know about the young woman whose life was cut short by a killer. "What can I say? I was her father," David Charbonneau said. "She was very loving, and she was a sweetheart."
"She liked to stay home, watch TV, watch a movie," said Monica Charbonneau. "And she wanted to spend time with her family."
The couple said their daughter did not want them to know she was dancing at a strip club. "I thought she was waiting tables," David Charbonneau said. "I didn't know until the last part, the last two weeks, she was dancing ... She was ashamed of what she was doing. It just ate her up."
Just days before she vanished, Charbonneau visited her parents at their home. A photograph taken during the visit is featured on the Web site.
"She had come over here, and she had said she wanted to settle down," her mother said. "She was tired of what she had done. And you can see it in her face."
The Charbonneaus say they want the suspect to tell them where their daughter's body is.
"I would want him to tell us where she's at so that we can bring her home and have that closure," Monica Charbonneau said.
"I'm not sure if I want to know what happened that day," she added. "I don't know if that would help me. But I do want to know where she's at, that I need to know."