STORY HIGHLIGHTS
Rajaan Bennett was headed to Vanderbilt on a full-ride scholarship

He was the school's first pick for the football team

Bennett was shot to death by his mother's boyfriend on February 18

While homicide is down, agencies say family violence homicides are up

Powder Springs, Georgia (CNN) -- At school, Rajaan Bennett was the senior with the shiny future -- the honors student and star running back who led his Georgia high school team to its first undefeated season.
He'd just gotten a full scholarship to Vanderbilt University. He wanted to be an architect.
But at home, Bennett was the man of the family. And that is where a gunman with a grudge against his mother found him, police say. The 18-year-old with hopes of someday providing for his family died protecting them. He summoned help when he, his mother, younger sister and his uncle were under threat.
Sometime after midnight on February 18, his mother's former boyfriend, Clifton Steger, 39, came to the woodsy, two-story stone house in Powder Springs, Georgia, with a .22-caliber revolver in his hand, police say. Upset over a recent breakup, he forced Bennett, his mother and sister into a bathroom. They brought a phone with them and Bennett called 911.
When police arrived, Bennett's mother, Narjaketha Bennett, ran out the front door. She was hysterical.
Gunshots rang out. When the shooting stopped, a bullet was lodged in Rajaan Bennett's chest. He died on his bathroom floor.
Steger, who had stayed often with the family but lived in Milledgeville, Georgia, also was dead. Police say he shot himself in the face, near the front door of the house. They said it was a murder-suicide.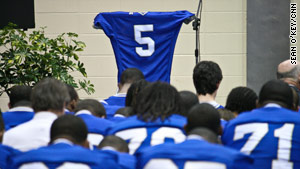 Rajaan Bennett's teammates gather in front of his football jersey at a memorial service Wednesday evening.
Only days earlier, Rajaan Bennett and Steger had been photographed together at a celebration after Bennett signed his letter of intent to play at Vanderbilt. Friends and coaches familiar with the family say the relationship appeared to be amicable.
Earlier this week, several hundred mourners -- including coaches, teachers, parents and classmates -- gathered for a memorial service in the McEachern gym. Many wore Bennett's number, five
Bennett's mother trembled as she spoke for the first time in public about the son she raised by herself and lost to violence in her home.
"On weekends, I wouldn't see Rajaan until it was time for bed on Sundays," she said. "But he would always call and say, 'Hey mom, good morning.' "
He was a boy who never needed scolding. She described him as a wonderful child.
"I ask myself, 'What am I going to do without him?' " she said tearfully.
Fellow senior Marissa Dean said, "What his mom couldn't do, he did for her. If he couldn't do it, he found a way to have it done. Family came first, and everything else followed behind."
Bennett's death may be just one example of a disturbing trend. While preliminary FBI figures reveal a 10 percent drop in homicides nationwide in 2009, domestic violence agencies and shelters say homicides stemming from violence at home appear to be rising.
"We are seeing more extreme cases, more frequent cases of domestic violence across the nation," said Brian Namey, a spokesman for the National Network to End Domestic Violence.
The Pennsylvania Coalition Against Domestic Violence reported 36 slayings during summer 2009.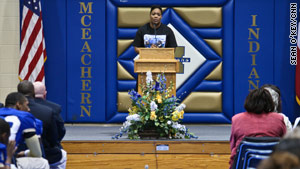 Her voice quavering at times, Narjaketha Bennett shared memories of her slain son at the memorial service.
Five cases of murder-suicide dominated headlines in Oregon in November. In Massachusetts, police have blamed domestic violence for at least six homicides so far this year.
There are no national figures on the number of deaths due to domestic violence. The U.S. Department of Justice does track homicides involving what it calls intimate partners. The department's most recent report, from 2005, documented more than 1,500 victims, a majority of them female. The figures don't include bystanders or other family members.
Nicole Lesser, executive director of the Georgia Coalition Against Domestic Violence said victims are becoming increasingly desperate, staying in shelters longer and requesting more services than two years ago.
In the Rajaan Bennett case, police are still investigating and saying little about Steger's motives. The teen's mother told police she was able to escape because Steger ordered her to answer the door and tell the officers to leave.
Police say they had not previously been called to the home. But Steger was upset by the breakup with Narjaketha Bennett and sent her repeated text messages, said police spokesman Matt Boyd.
A week before he died, Rajaad Bennett wrote an essay for a school class. He called it "Strength."
"My drive cannot be stopped or slowed down because every obstacle has a way around it," he wrote. "Every day I become stronger from the weights physically, the books mentally and life emotionally. There is no limit to my strength and at the end of the day, I want to be the strongest."
Powerfully built at 5-feet-11-inches and 220 pounds, Bennett was the first McEachern player to be recruited to Vanderbilt. But his coaches and friends said it was Vanderbilt that got lucky. A dozen other schools also made offers.
Bennett was never scared, his teammates said, when it came time to catch the ball and put it in the end zone. The Atlanta Journal-Constitution named him the Class 5A Offensive Player of the Year.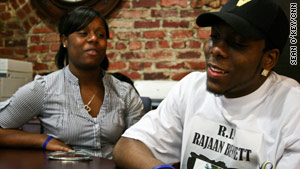 Marissa Dean, left, and Demarius Matthews share memories of their friend Rajaan.
His friends remember Bennett's uplifting smile. He was charming. He could be silly one moment, serious the next. But unlike most teens his age, he always had a backup plan.
Already, a half-dozen Facebook groups have popped up in his honor.
His close friends miss the weekend visits to Bennett's house, where he prepared the teenage version of a four-course meal: spaghetti, salad, garlic bread and Kool-Aid. His sister and brother were always at the table with his friends.
With his mother working long shifts on weekends, he was practically a father to his autistic 17-year-old brother.
For Bennett, growing up happened quickly. His father died in a car crash after the family moved from Fort Lauderdale, Florida, to Georgia in 2001. Ten years old at the time, Bennett recalled in his essay that he wondered, "Why me?"
Yet he and his family found a way to move forward. They bought their first home in Powder Springs, a suburb of Atlanta that seems more like a sleepy small town, with tree-lined streets and modest but tidy homes.
He wrote in the essay about facing hard times: "I may complain. I may refuse, and I may even cry about it, but I know what I have to do."
Demarius Matthews, 17, and Bennett were the football team's captains. At the memorial, Matthews wore a custom made T-shirt with a photograph of him, Bennett, and Bennett's mother. On his head was a black-and-gold hat with the Vanderbilt logo.
Matthews said he spent much of the week crying, but when he spoke about his best friend, a smile crossed his face. He recalled the times they had lunch together, the argument they had over a bag of hot Cheetos during weight practice the day before Bennett was killed.
And so, after the tears fell, Matthews said he pulled himself together. He called Georgia State University, where he will be playing football in the fall.
He asked for the jersey with No. 5.