'Granddad Bandit' hits another bank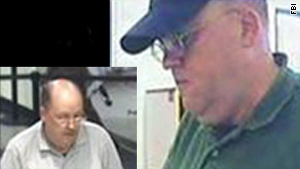 The FBI released these pictures of the "Granddad Bandit," suspected in 18 robberies.
STORY HIGHLIGHTS
FBI says man robbed bank in Huntsville, Alabama, on Wednesday
He is suspected in 18 other robberies in 12 states
Authorities employing electronic billboards to try to catch him
(CNN) -- A man dubbed the "Granddad Bandit," suspected in more than a dozen robberies, struck again this week, the FBI said Friday.
The latest incident was Wednesday in Huntsville, Alabama, the FBI said in a release. It offered no further details.
Authorities suspect the Granddad Bandit in 18 other robberies in a dozen states. The FBI said last year that he is a white male, believed to be 50 to 60 years old. He is about 6 feet tall and weighs between 210 and 230 pounds.
On Friday, the FBI said that he may be driving a black four-door Ford F150 or F250 pickup with an Alabama license plate.
"Typically, the man enters the victim bank, approaches the teller counter and hands the teller a note demanding money. During some of the robberies, he has threatened to have a weapon," the bureau said.
Authorities are using electronic billboards in 10 states to try to catch the bandit. The FBI said the billboards -- there are about 75 of them -- will be updated to include a photograph of the vehicle.
The FBI is offering a reward of up to $10,000 for information leading to the arrest and conviction of the bandit. Anyone with more information should contact local police or the FBI, authorities said.
Electronic billboards played a role in the arrest in September of a man sought in at least 10 bank robberies in at least four states. The FBI posted surveillance photos from the robberies on the billboards, leading to the man being identified as Chad Schaffner. A retired state trooper saw Schaffner in a hotel in Kingdom City, Missouri, and notified authorities.
The Granddad Bandit is not the only middle-age bank robbery suspect currently being sought. Authorities in Houston, Texas, are looking for a woman dubbed "Bad Granny," believed responsible for three recent robberies and attempted robberies of banks in the area.
The woman attempted to rob a bank Friday, the FBI's Houston office said in a release, but "the teller did not immediately provide any cash" after being handed a threatening note. The woman apparently got nervous, took back the note and left, authorities said. However, she then entered another bank and robbed it.
The woman is described as white, 50 to 60 years old, about 5 feet 4 inches tall and weighing 120 pounds. She was wearing a salt-and-pepper wig, the FBI said.
She also is suspected in a robbery January 19 but was not wearing a wig, authorities said. A reward of up to $5,000 is offered for information leading to her arrest.