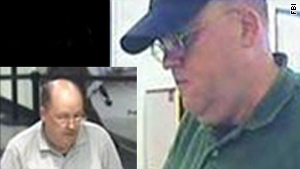 The FBI released these pictures of the "Granddad Bandit," suspected in 18 robberies.
STORY HIGHLIGHTS
Man is believed responsible for 18 robberies in 12 states
Reward of up to $10,000 is being offered
Electronic billboards helped nab bank robber in Missouri last year
Texas authorities also seeking middle-age bank robber
(CNN) -- Buoyed by the success of an electronic billboard campaign in catching a serial bank robber last year, authorities are trying the tactic again to identify another: a man dubbed the "Granddad Bandit," suspected in 18 robberies in 12 states.
The Knoxville, Tennessee, division of the FBI kicked off the campaign, which spans multiple states, Friday in conjunction with Lamar Outdoor Advertising, a billboard company.
The "Granddad Bandit" is suspected in bank robberies in Alabama, Arkansas, Florida, Georgia, Kansas, Michigan, Mississippi, New York, Oklahoma, Tennessee, Texas and Virginia, authorities said in a news release.
The FBI said last year that he is believed to be between 50 or 60 years old. He is about 6 feet tall and weighs between 210 and 230 pounds.
"Typically, the man enters the victim bank, approaches the teller counter and hands the teller a note demanding money," the FBI statement said. "During some of the robberies, he has threatened to have a weapon. Additionally, the suspect may be driving a silver sport utility vehicle."
A reward of up to $10,000 is offered for information leading to the arrest and conviction of the man.
Anyone with more information should contact local police or the FBI, authorities said.
In September, a man sought in at least 10 bank robberies in at least four states was arrested in Missouri. The FBI posted surveillance photos from the robberies on electronic billboards, leading to the man being identified as Chad Schaffner. A retired state trooper saw Schaffner in a hotel in Kingdom City, Missouri, and notified authorities.
The "Granddad Bandit" is not the only middle-age bank robbery suspect. Authorities in Houston, Texas, are seeking a woman dubbed "Bad Granny," believed responsible for three recent robberies and attempted robberies of banks in the area.
The woman attempted to rob a bank Friday, the FBI's Houston office said in a release, but "the teller did not immediately provide any cash" after being handed a threatening note.
The woman apparently got nervous, took back the note and left, authorities said. However, she then entered another bank and robbed it.
The woman is described as white, 50 to 60 years old, about 5 feet 4 inches tall and weighing 120 pounds. She was wearing a salt-and-pepper wig, the FBI said.
She is suspected in a third robbery on January 19 but was not wearing a wig, authorities said. A reward of up to $5,000 is offered for information leading to her arrest.